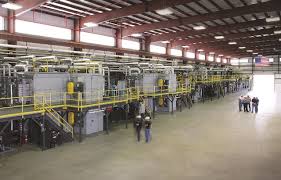 It's the first day of Pittcon 2014 and it's buzzing with scientists, all seeking to find out how the latest instrument advances will help them achieve lab quality results efficiently and simply. We've enjoyed speaking to individuals involved in applications as diverse as analytical chemistry, food analysis and safety, drug discovery, water and wastewater analysis, life sciences and other emerging markets looking for new analytics techniques.
Regardless of their professional differences, we've noticed an emerging trend from our booth's anecdotal evidence: scientists today are seeking instrument solutions that make their life easier by providing simple, accurate measurements that help their company achieve success.
We believe this comes down to your ability to easily get, reliable, lab quality analysis from the process line. In some cases, this requires bringing the lab to the sample, as with portable analyzers. In others, it means assurance your lab test equipment is the best for the job at hand.
So we thought we'd share 4 tips to help scientists achieve this goal of getting lab quality analysis from the process line.
1. Stay Competitive With The Latest (Affordable) Technology
Manufacturers must be at the top of their game to be viable in the current global market. They are seeking out scientific analysis to help them achieve competitive product yields. Whether your role falls under quality control, research and development,or safety assessment, finding the most effective, efficient testing is a crucial part maintaining your company's competitive edge. We're seeing more scientists than ever at Pittcon, driven to find instruments advanced enough to handle this edge, and truly affect their company's profit margins. The latest technology shouldn't come with an outrageous price tag, which is why you should also look for some newer, affordable versions of your favorite instruments. We suggest the KB30 Moisture Meter and FD660 Moisture Balance, released at Pittcon this year.
2. Look For Lab Quality Equipment Anyone Can Use
However, the latest technology shouldn't be complicated. Your test equipment needs to be accessible, offering a protocol or test that offers reliable, repeatable results regardless of where the test is being conducted - or who is conducting it. If you have plants around the world, it's crucial that they can access the same type of information and results that your staff sees at your headquarters. With an accurate, easy-to-operate instrument, we've even heard some of our customers say even their plant manager can get it right.
3. Identify Key Traits In An Industrial Instrument
As we discussed earlier, scientists are currently seeking instruments that are both simple enough for any staff member to learn how to operate, while providing lab quality accuracy. However, accuracy and ease-of use mean little if they are only suitable for use in a sealed, stable laboratory. Industrial instruments should be designed to last through decades of use in even the most brutal conditions.
In addition to durability, your instrument should offer:
Instant readouts

No sample preparation

No sample contact required

Factory pre-calibrated settings

Automatic temperature (and, in some cases humidity) compensation
4. Consider Taking The Lab To The Sample With Portable Instruments
More recently, advances in test instrumentation means you can get lab-quality results at any point in the process line. Tests can be performed anywhere, anytime along the raw material supply chain, from analyzing seeds in the field to testing raw ingredients at the receiving docks and at any point during transport. These advances are leading to stronger quality assessment programs able to stand up to even the most stringent regulations, while keeping product losses at a minimum.
Portable Instruments to Take to the Process Line
At what point in your process line are you seeking to get instant results? Let us know by commenting in the comments section below, filling out an inquiry form, or visiting our booth (#3402) at Pittcon.
Discover What Kett Is Doing At Pittcon