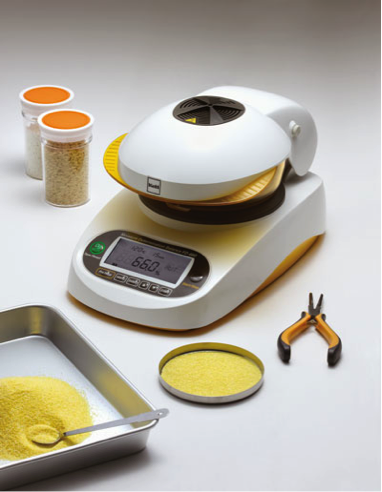 The Kett FD660 Moisture Balance provides advanced drying technology at entry-level pricing. All solid and liquid samples can be tested in minutes.
Pittcon 2014, Chicago, Illinois – March 2, 2014 -- Kett, the world's leading manufacturer of award-winning portable handheld moisture meters and rice testing instrumentation, announced today the introduction of the FD660 Infrared Moisture Balance. This instrument provides rapid, direct measurement of the moisture or solid content in any liquid or solid within minutes. Most samples need no sample preparation before testing.
The FD660 uses two unique organic carbon heating elements. This technology provides two times the efficiency of halogen lamps and, with a 7000 hour heating element life, it provides four times the life of traditional ceramic or heat lamp systems. With this implementation, users have an energy efficient system with a substantially lower total cost of ownership (TCO). In addition to many drying program features only found on high-end systems that are far more expensive than the FD660, the instrument offers a pre-heat mode which 'pre-heats' the instrument to eliminate measurement error that occurs because of instrument expansion during testing.
A 110mm diameter sample pan, 80g sample capacity and simple digital I/O makes the FD660 a full-featured instrument that can be used in the most varied environments, even on harsh plant floors. The FD660 is the latest in instrument innovations from Kett, a leader in moisture analyzers, organic composition meters, and rice, grain and seed measurement instruments for more than 65 years. The FD660 is for use in laboratory and near-line process control applications where quick, accurate evaluations are required.
Kett continues to stand behind the FD660 with a unique one-year Total Care manufacturer's warranty on parts and labor and specification compliance
For a complete brochure on this exciting new addition to the Kett product line download here.
About Kett

Kett is considered the worldwide leader in rice quality instrumentation. In addition, Kett is recognized as a worldwide leader in measurement instrumentation, and is the only manufacturer making more than 100 instruments for moisture testing, composition measurement and grain processing measurement. Models are available for handheld, desktop and inline/online continuous measurement applications.
The American headquarters for Kett is in Anaheim, California. For additional information, contact Kett at John Bogart at 800/GET-KETT (438-5388) or 714-974-8837 or email directly jbogart[at]kett.com.