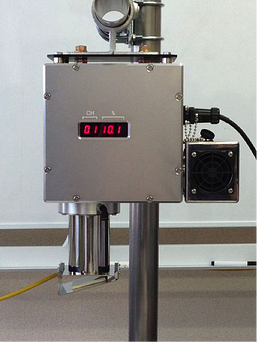 The KB30 is the latest innovation in NIR technology from Kett and joins our extensive line of portable, desktop and online/inline analyzers. This instrument provides advanced instant moisture measurement at entry-level pricing. All solid and liquid samples can be tested in minutes.

Pittcon 2014, Chicago, Illinois – March 2, 2014 -- Kett, the world's leading manufacturer of award-winning portable handheld moisture meters and rice testing instrumentation, announced today the introduction of the KB30 Online NIR Moisture Meter. This instrument provides instant, non-contact, non-destructive moisture measurement of any liquid or solid. Most samples need no sample preparation before testing.
The KB30 utilizes near-infrared (NIR) technology. Light is filtered to wavelengths that excite the moisture molecules. The higher the moisture content, the higher the light absorbed. When mounted over a process line, the product can be instantly measured without contact or sample preparation. This provides the user with the ability to continuously monitor a product and, when connected to a PLC or controller, to optimize yield, energy usage, and product quality with one, simple to use instrument.
The KB30 has a stainless steel housing for simple cleaning. In addition, it has an integrated air purge to minimize maintenance. As with all of the Kett analyzers in this series, the KB30 is a smart sensor. Moisture measurement is calculated within the sensor, eliminating the need for external keypads, controllers and/or computer interfaces. This simplifies installation in plant environments. As a bonus, the integrated display allows staff to visually see the moisture value and eliminates the need for costly external displays.
The KB30 provides automated temperature compensation to maintain measurement stability and includes an optical standard to confirm specification compliance. Analog output and digital I/O complete the package and allow for interconnection with any process control protocol.
The KB30 is for use on any process line where instant, non-contact, moisture measurement is required. Kett continues to stand behind the KB30 with a unique one-year Total Care manufacturer's warranty on parts and labor and specification compliance
For a complete brochure on this exciting new addition to the Kett product line, download here.
About Kett

Kett is considered the worldwide leader in rice quality instrumentation. In addition, Kett is recognized as a worldwide leader in measurement instrumentation, and is the only manufacturer making more than 100 instruments for moisture testing, composition measurement and grain processing measurement. Models are available for handheld, desktop and inline/online continuous measurement applications.
The American headquarters for Kett is in Anaheim, California. For additional information, contact Kett at John Bogart at 800/GET-KETT (438-5388) or 714-974-8837 or email directly jbogart[at]kett.com.