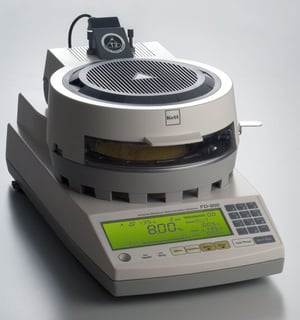 For years, when measuring the amount of moisture in certain substances, the only solution had been the loss-on-drying (LOD) method, using a moisture balance.
These moisture balances are typically used in very controlled environments like at pharmaceutical or chemical companies, with plastics and polymers, or in food manufacturing plants. These are all places where moisture levels don't tend to sway too much in one direction or the other but still need to be tested regularly.
Sure, some substances can be measured using universal moisture meters and near-infrared (NIR) moisture meters, but for many products, only a moisture balance will work sufficiently. And sometimes, because of its affordability, moisture balances are the best option for some industries. It is much easier to use a moisture balance on plastics, pharmaceuticals, and many foods for these reasons.
Also, the LOD method of testing moisture levels is a primary method of determining the moisture levels. This means that anything can be tested without calibration, which is a necessity in some of these industries because of the consistency of the samples they are testing, the varied kinds of samples, or sometimes, the high moisture content of the samples.
But even the folks here at Kett will admit that some moisture balances can be tricky to use with complete accuracy. Temperatures can be hard to gauge, samples can scald or scorch, and it can take quite a while for some samples to dry thoroughly - sometimes more than 30 minutes. It's hard to find that kind of time- especially if a sample scorches and you have to start a test all over again.
With previous models, moisture balances have not always been as precise (repeatable) as NIR moisture meters, and when you're working on a large manufacturing scale, even a seemingly small variance of 0.5% can mean a big difference in your bottom line. One of the reasons for this lack of precision is the tendency of a moisture balance or LOD test to burn the non-aqueous volatiles (like fats/oils/sugars).
Previously, when using a moisture balance, you always had to allow for some wiggle room in your measurements. But now, with improved technology, factoring in potential errors or inaccuracies is a thing of the past with the newest model: The FD800.
Meet the FD800
The main goal of the updated FD800 is precision and accuracy, and less scorching. The FD800 is a brand new, advanced moisture balance that comes equipped with state of the art technology to make taking measurements with a moisture balance a much simpler, easier, more reliable process. In addition to normal drying temperature control, the FD800 includes a second infrared measurement sensor.
This infrared sensor monitors the surface temperature of the sample as it is dried. When it measures a "hot spot", the FD800 automatically reduces the drying temperature to avoid scorching. Remember, if the product is scorched, solids content has been 'burned' and the measured moisture content of the sample will be overstated - and incorrect. This new advancement eliminates that risk.
One of the biggest improvements in the technology with the FD800 is the consistency of the heating elements. Because the FD800 uses mid-infrared quartz heating elements, the heater is not affected by sample color and doesn't overdry as a result of surface temperature effects.
It's always the same, and it's always trustworthy. Measurements are far more accurate with new heating mechanisms because the samples do not get scorched as they have using previous models. All of this makes for a truly accurate machine, with test results that are more reliable than ever before.
And with an advanced temperature control system, the temperature is always monitored to prevent burning or scorching. These improvements in heating methods allow for more consistent drying and better accuracy in the LOD weight changes.
For example, a sugary cereal or other baked food would benefit from using the FD800 to determine moisture levels. This is because with other moisture balances, the sample may scorch, and the test would have to be performed again, holding up production while waiting for valid test results.
This is where this new technology is having a huge impact on the moisture balance industry. An updated balance is more responsive and resistant to shock than ever before, and with new auto-tare technology, there's no drift, even with the largest of sample pans, so you can trust that readings will be correct.
Another major improvement on older heating methods? The quartz heating elements last 5-10 times longer than older infrared and halogen lamp methods. This substantially reduces the Total Cost of Operation (TCO) for the user.
Improved Heating Methods
The kind of guesswork that had to happen in older models with drying times could be frustrating. Would a darker color sample attract more heat and dry faster? Would a certain temperature be too hot and burn the outside of a sample, leaving the inside with moisture still remaining?
This is where trial and error previously affected testing and where the FD800 now excels, thanks to advancements in technology. Measurements are more consistent, since the heating varies based on surface temperature measurements. This means the temperature is not just set at a fixed drying temperature: it adjusts to your sample to heat safely and consistently to provide you with more reliable results.
Shorter Testing Times
Since there is more control over how the samples are heated, and because of its new dual-mode temperature control, drying is not only safer and more accurate, but testing can also take much less time than with the previous Advanced Moisture Balance.
With the FD800, if the temperature approaches a level that would scorch or burn the sample, the drying temperature is automatically adjusted downward. This avoids scorching, bad test results, and the need to restart the whole process over again. Because there is a much higher percentage of successful tests (where the sample does not end up scorched), it can take less time overall to wait for a valid release test.
With variable modes for different samples, you as the user can select the right drying program for each sample. Again, this not only shortens drying time and removes the guesswork of how long it should dry, but it also provides you with spot-on test results that are more reliable than ever before.
All in all, the technological improvements we are seeing in the newest moisture balance models like the FD800 mean that these moisture tools have made huge strides forward, saving you time, money, and guesswork.
Are you ready to see how new technology has changed the game for moisture balances? Request a quote or get your questions answered by chatting with one of our highly-qualified engineers today!