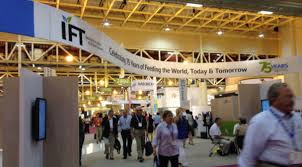 While IFT14 represents a great opportunity for us to showcase how Kett test and measurement equipment can enhance food quality, extend shelf life and improve profits at the largest annual food science forum and expo in the world – for me a highlight of the show is always the delicious food.
Combining 16,000 industry professionals in New Orleans can only be described as a culinary delight. With a focus on "natural" and "healthy" foods as well as flavours and additives there were copious tasty samples. A personal thank you to Blommers for the dark chocolate ice cream bars. I make it a point to sample them each year and they never disappoint.
And a big thank you to IFT for once again organizing a spectacular event. See the highlight video here: http://www.am-fe.ift.org/cms/
During the previous year, we have been busy improving Kett's test instruments so I was excited to showcase some of newest additions to the Kett range.
After attending IFT for 17 years, it amazes me how many people still haven't seen our KJT130 handheld NIR moisture meter and are wow'd when they see our live demonstration for the first time.
Learn more about our handheld NIR moisture meter the KJT130 Here
And it just wouldn't be a Kett exhibit without the world's favourite moisture meter the Riceter.
I value the opportunity to connect with so many like-minded food science professionals and I look forward to Kett's 18th appearance (along with another Blommers dark chocolate ice cream bar of course) at the IFT expo next year.
Did you find right measurement instrument to ensure consistent food quality? If not, how can we help you? Share your question or need in the comments section below, email us at sales[at]kett.com or call 800 438 5388 [800 GET KETT].
Here's some additional resources you may find helpful:
| | |
| --- | --- |
| | The purpose of this guide to help you navigate the waters of the various moisture meter technologies, form factors, and companies and assist your efforts to provide your firm with accurate and reliable moisture meter. Learn more here |
| | If you are interested in pursuing the goal of accurate moisture measurement, including: quality control, quality assurance, production management, design/build engineers, executive management and of course anyone wanting to learn more about this far reaching topic - then this ebook is for you. Learn more here |
| | Learn how this company used - Kett's Rent-To-Own offer to "test" the benefits of the instrument before making their buying decision. They were able to save time and money, by identifying locations in their production line where the plastic had extra moisture - without touching the raw material or films and without altering the product. Learn more here |
| | Learn how real-time moisture measurement, during the production cycle, of product development ensured a successful product launch for this client. Learn more here |