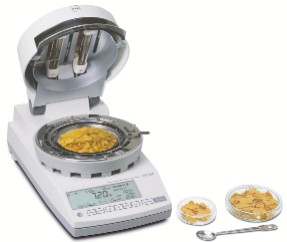 There are various technologies, methods and instruments to consider when you're looking to invest in the right test instrument for your needs. The various options can equally be confusing as you weigh up the variables: purchase, cost of labour, skills required, quality of results, mobility, running costs etc.
The purpose of this article is to provide a quick reference for understanding the pros and cons of Loss On Drying (LOD) as a moisture measurement method compared to the relatively new technology NIR.
LOD
Loss on drying is a primary measurement method. This means it's a test method that can test "anything" without calibration. It was also the original primary moisture measurement method.
How It Works
In an LOD test, the sample is weighed, dried, and weighed again. The difference in the two weights (Loss on Drying) is then compared with either the original weight (Wet-base test) or final weight (Dry-base test) and the moisture content calculated. Tests can be manually conducted (weigh, oven dry, weigh) or automated (integrated weight and heating unit) with systems called Moisture Determination Balances.
Advantages
It is a primary method (does not require calibration).

Can measure high levels of moisture.

Moisture balances are cheaper than more sophisticated instruments.
Challenges
Destructive, meaning the sample is altered by the heating.

Time consuming, with some tests taking 30 minutes or more to complete.

This method makes the assumption that all weight loss is due to water. In cases where substantial other volatiles (organics) are also available, this may not be the truth.

All volatiles are evaporated, causing improper moisture content calculations.

Operator error can contribute to inaccurate readings.

Air ovens are large and occupy a significant amount of space.

Air ovens are generally very expensive both to purchase and for the energy needed for an ongoing operation.

Cannot easily test liquids.
Examples
Forced air ovens

Convection ovens

Vacuum ovens

Infrared moisture balances

Microwave (drying) ovens
Pricing
Good entry-level moisture balances start at around $2,000 and depending on features, capacities, and precision levels (mostly balance dependent) can run to $5,000-$7,000. Large ovens can run from $5,000 to $15,000.
Who Uses LOD Method
Many food companies use the LOD method since it is generally faster than the alternative primary method Karl Fisher (KF) and doesn't require the same level of expertise or the moisture measurement precision offered by the KF method. Environmental test labs use the LOD method for their soil samples.
Food companies

Pharmaceutical companies

Pulp and paper

Chemical companies

Contract test laboratories
LOD works well under controlled situations, however, it is far from ideal. While the lack of need for calibration is a strength, temperature settings do need to be determined before specific tests can be conducted. Destroying (or altering) the sample may cause issues, and the time needed to complete these moisture tests may be too long to help optimize a manufacturing process.
NIR
Instrument designers have created other moisture meter test methods, using different technology, to address the shortcomings of primary measurement methods. One popular technology is Near Infrared NIR. NIR is a secondary measurement method, meaning the NIR test instrument needs to be calibrated to provide "true" moisture measurement.
Advantages
Results are instantaneous.

The test is non-contact and non-destructive.

Can be used on almost any liquid or solid.

Portable, battery-powered units are possible along with online/inline and desktop form factors.

Can measure surface moisture to help with optimizing packaging, curing, drying, etc.

Can be used with other wavelengths to measure multiple organic concentrations in addition to moisture (fat/oil, protein, sugar, fiber, etc).
Challenges
Needs to be initially calibrated.

Only a surface measurement of moisture. To work properly, there must be a relationship between the surface moisture and total moisture of the product.
Examples
Portable handheld moisture meter.
Desktop moisture meter.
Online/inline moisture meter.
Pricing
NIR moisture meters run from about $10,000 to upwards of $40,000 per sensor. Configurations can be portable, desktop and inline/online.
Who Uses NIR Method
Food and grain processors
Tobacco
Pharmaceutical
Pulp and paper
Minerals
Personal care products
Chemicals
Textile
I hope this has helped you to identify if LOD or NIR is the right moisture measurement method for your needs. If you have any questions please contact us here. We'd be happy to answer your questions.
Other Resources You May Be Interested In
| | |
| --- | --- |
| | The purpose of this guide to help you navigate the waters of the various moisture meter technologies, form factors, and companies and assist your efforts to provide your firm with accurate and reliable moisture meter. Learn more here |
| | If you are interested in pursuing the goal of accurate moisture measurement, including: quality control, quality assurance, production management, design/build engineers, executive management and of course anyone wanting to learn more about this far reaching topic - then this ebook is for you. Learn more here |
| | Learn how this company used - Kett's Rent-To-Own offer to "test" the benefits of the instrument before making their buying decision. They were able to save time and money, by identifying locations in their production line where the plastic had extra moisture - without touching the raw material or films and without altering the product. Learn more here |
| | Learn how real-time moisture measurement, during the production cycle, of product development ensured a successful product launch for this client. Learn more here |