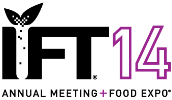 I'm looking forward to meeting with QA, QC, product development and R&D specialists from some of the world's most profitable organizations at IFT2014 later this month. As they get ready to learn about the latest in product, ingredient and technology improvements, and how these latest developments will impact their business, I'm getting prepared to wow them with how our innovations in measurement instrumentation will help them realize their quality, product introductions, and profit goals.
Accurate measurements for product quality are key to optimizing profitability for companies. However, if the measurement instrument isn't up to the task, despite the best intentions and the most rigorous test plans and procedures, money, a lot of it, will be left on the table.
Below is a list of some of our recent additions and top sellers you can learn about at IFT2014. Stop by booth 2301 for a demonstration or to discuss how we can boost your profit margin with the right measurement instrument.
1. Handheld NIR Moisture Meter KJT130
Traditionally, samples are brought to the lab, where high-tech instruments stand ready. However, walking a sample from the field, stockroom or factory line is time-consuming, prohibited to a limited size and shape of the sample, and introduces unwanted variables. In response to these limitations, we've designed portable, instant, non-contact spectrometers, like the KJT130 moisture meter, to meet the real needs of QA, QC and R&D specialists. These test instruments improve the bottom line of manufacturing companies, ensuring products meet standard market parameters with minimal waste. Read more
2. Riceter – The Worlds Favorite Portable Moisture Meter
The amount of moisture in a product can affect various quality components, as well as transactions based on weight. When dealing in bulk shipments, even the smallest errors can add up to large profit losses over time. The Riceter remains the largest selling portable moisture meter in the world, and sets the standard in excellence in the industry. Originally designed and developed in the 1950's to bring lab quality results to rice farmers in the field, the latest version has been fashioned to test rice and other small grains using both the Japanese Industrial Standards (JIS) and USDA measurement criteria. Read more
3. Single Grain Moisture Tester
The new PQ5205, is a single grain and seed moisture tester that provides rapid moisture measurement of rice (brown, polished and paddy, jasmine, parboiled .... 11 total specific rice calibrations), barley (naked and standard) and wheat. It is factory-calibrated to measure 1- 1,000 kernels per batch, and can measure 150 kernels per minute. The PQ5205 builds on the success of its precursors, the PQ500, PQ510 and the PQ520 Single Grain Moisture testers, considered the worldwide standard for the measurement of single grain seed moisture. Having the ability to measure each seed and determine the distribution of moisture provides unique information to the grain purchaser or harvester. When used at harvest, it helps determine the precise optimal time to harvest (when the spread of moisture in a given field is minimal). When used at a grain auction or when processing grain and seed, the moisture content distribution (when combined with the average moisture content) helps the user optimize product consistency and manufacturing efficiency. Read more
4. Portable Flour Moisture Meter PR930
Instant moisture tests from a portable handheld. Allows the user to optimize moisture anywhere, anytime. This handheld, battery-powered instrument provides laboratory quality moisture measurements of rice flour, wheat flour, whole rice and wheat kernels that anyone can obtain by simply turning a small handle. Instant, accurate moisture tests allow users to optimize buy/sell transactions, standardize rice and wheat milling and processing applications, and to maintain optimal flour and grain quality standards. Read more
5. Moisture Balance FD660
The Kett FD660 Moisture Balance provides advanced drying technology at entry-level pricing. All solid and liquid samples can be tested in minutes. This instrument provides rapid, direct measurement of the moisture or solid content in any liquid or solid within minutes. Most samples need no sample preparation before testing. The FD660 uses two unique organic carbon heating elements. This technology provides two times the efficiency of halogen lamps and, with a 7000 hour heating element life, it provides four times the life of traditional ceramic or heat lamp systems. With this implementation, users have an energy efficient system with a substantially lower total cost of ownership (TCO). In addition to many drying program features only found on high-end systems that are far more expensive than the FD660, the instrument offers a pre-heat mode which 'pre-heats' the instrument to eliminate measurement error that occurs because of instrument expansion during testing. Read more
6. NIR Composition Analyzer BSS1700
The BSS1700 provides instant measurement of organic concentrations and product identification liquid, solid, and gas samples. The BSS1700, is a composition analyzer that provides rapid product identification and organic concentration measurements in any liquid, solid or gas sample. Designed in partnership with Beat Sensing Company, the BSS1700 is designed for use in laboratory, near-line process, and online/inline process control applications where quick, accurate determination of the product composition is required. This simple-to-use device allows users to measure organic concentrations (moisture, fats, oils, proteins, sugars and more) within a sample. Tests are completed without sample preparation. The BSS1700 includes software to allow the customer to easily develop customized product calibrations and interfaces with industry standard Unscrambler ® software as well as SMA optical accessories. Read more
To learn more about our range of industry leading measurement instruments visit us at IFT2014 this June 21-24 booth 2301. We'll have live demonstrations and experts on hand to answer your questions.