There's no doubt that the cannabis industry is booming. The growth of legal sales of CBD and other cannabis products is off the charts, with the global legal market expected to reach $73.6 billion by 2027.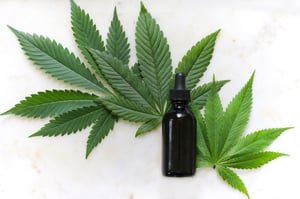 Between all the available forms of cannabis—as a bud, oil or tincture—and all the legal medical uses across the country and the globe, there's a developing market to analyze, test, and standardize cannabis products to monitor potency and quality.
And cannabinoid (CBD) oil in particular? It's revolutionizing the wellness industry. It's being used for all sorts of things: epilepsy, glaucoma, Crohn's disease, cancer, migraines, PTSD, multiple sclerosis and much, much more. Fourteen percent of Americans say that they use CBD oil products. It's a rapidly growing sector of the wellness industry.
In this growing industry, there comes a need for standardization—for consistency, safety and regulation of the product. But how can you achieve this?
One role that is expanding in the cannabis market is the role of the spectrometer. Spectroscopic technology is being used to create a safe and regulated final CBD oil. Cannabis is not only evolving in the consumer market but the clinical markets as well, and spectrometers are playing an important part in the quality-control testing, pharmaceutical, clinical and academic fields. It's helping to create a more reliable, controlled product.
Let's take a look at its influence on cannabinoids:
Why Test Cannabinoids?
Standardizing and monitoring cannabis products is notorious for being incredibly difficult. While humans have relied on cannabis for its various uses for over 4,800 years, it's only within the past 100 years that we have been able to even identify the chemicals that produce the effects and pharmacological actions in cannabis.
It's important to know the potency of the final product before it is sold to consumers as well as the presence of any harmful pesticides or other chemicals.
Also, as the number of states that legalize the sale of cannabis increases, so does the number of regulations about harmful pesticide residue in cannabis products, including CBD oil. This can be tricky because CBD oil is so concentrated and there is such a strong presence of cannabinoids and terpenes when compared to the level of pesticides that might be present.
The final dilute of CBD oil is tested using a spectrometer to look for an excess level of pesticides.
Spectrometer Usage
One of the ways that CBD products can be measured is their potency. The potency of these products refers specifically to the amount of THC and CBD in the plant matter.
There are thousands upon thousands of strains of cannabis, and each one comes with a different level of THC and CBD. How potent is your particular strain or your particular final product? That can be determined using a spectrometer.
A spectrometer like the BSS1700 Scanning Spectrometer can be used to simultaneously monitor several things. The spectrometer can be used for quantification and profiling of cannabinoids present in a hemp oil product with instant results. This unique instrument can be calibrated and used in the laboratory and then moved to a process line for continuous measurement... without re-calibration.
Analysis of hemp and CBD oil products using spectroscopic technology has become an increasingly popular area of scientific interest because of the low levels of psychoactive elements, and the high levels of beneficial cannabinoids.
The BSS1700 is also incredibly easy for anyone to use—and in a rapidly growing market, that's an important feature. There's nothing to prepare. A sample is simply placed under the probe for analysis.
For CBD oil analysis, you also can use the BS-F1000 Compact Fiber BeatSensor, which uses polychromatic spectrometer to test your samples. Once calibrated, the BS-F1000 can determine the concentration of cannabinoids present (or terpenes, pesticides, etc.) instantaneously.
What kinds of things can you test with your scanning spectrometer, which measures NIR absorbance to determine and quantify the presence of things like terpenes and pesticides? You can test for the following elements:
Residual solvent analysis
Terpene profiling and quantitation
Pesticide residual analysis
Toxic metal analysis
Cannabinoid quantitation and profiling
Do you grow cannabis, or are you processing CBD oil? A spectrometer will take out the guesswork, make your work easier and help produce a clinically monitored and tested product.
Let's talk. There are plenty of tools available via Kett that you can use to encourage healthy growing and a quality final product, from seed to shelf. Contact us today to learn more about how Kett can help you find the right tools to standardize your processes and improve your CBD products.