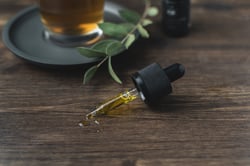 The sales of hemp seed oil was somewhere around $4.6 billion in 2019. While this is certainly an impressive figure, sales are expected to skyrocket in the next few years, with projected sales in 2025 reaching $26.6 billion. That's almost six times the amount of hemp seed oil sold in 2019.
So as the hemp seed oil industry begins to take off, you may have a few questions. Exactly why is the use of this product spreading like wildfire? Why does it need to be monitored? Why should the creation of hemp seed oil be carefully managed?
Let's take a look at how you can use a spectrometer to end up with a quality, reliable end result.
Why Hemp Seed Oil Needs to Be Monitored Via a Spectrometer
Countless strains of hemp are grown just to be processed and turned into hemp seed oil. But with each of these strains, there are varying levels of CBD and varying trace amounts of THC that need to be monitored and regulated so that the potency of hemp seed oils is consistent.
The best way to determine the potency of your particular strain of hemp is with a spectrometer. Using a spectrometer like the BSS1700 Scanning Spectrometer can help determine the level of cannabinoids present in hemp seed oil and provide instantaneous results.
Being able to analyze hemp seed oil products with a spectrometer is an increasingly growing area of scientific interest—probably because the use of hemp seed oil is growing so exponentially. This scanning spectrometer is incredibly easy to use, which is an important consideration in a market that is expected to take off so rapidly in the next five years.
With the BSS1700, all that's necessary for immediate, accurate results is to place a sample under the probe for analysis. There's no additional prep work.
Another spectrometer that is incredibly useful for testing hemp seed oil is the BS-F1000 Compact Fiber Beat Sensor, which uses polychromator spectroscopic methods to test each sample. While it requires calibration, it can immediately read concentration levels of CBD and THC in each sample of hemp seed oil.
Why Is It so Necessary to Test Your Hemp Seed Oil With a Spectrometer?
Using a spectrometer is more than just monitoring levels of CBD, though. Your scanning spectrometer evaluates the absorbency of NIR light to find the presence of all kinds of things that may be undesirable in a product that is designed for wellness.
Here are the kind of things you can monitor in your hemp seed oil samples:
Residual solvent analysis
Terpene profiling and quantitation
Residual pesticide analysis
Toxic metal analysis
Cannabinoid quantitation and profiling
No one wants to purchase a low-quality hemp seed oil that contains minimal CBD, as its effects will be unsatisfactory. Similarly, no one wants to buy a health-related product that has been contaminated with pesticides or other organic pollutants. By utilizing a spectrometer to analyze your samples, you can guarantee your customers that your product is safe to use.
Looking for the perfect tool to analyze levels of CBD in your hemp or to monitor contaminants in hemp seed oil? Our engineers at Kett have been working in the agricultural and pharmaceutical industries for years, making us the perfect consultants to find exactly what you need.
Contact us today to find out more. Or, download our latest guide: Test Equipment You Need to Be Successful in the Cannabis Industry