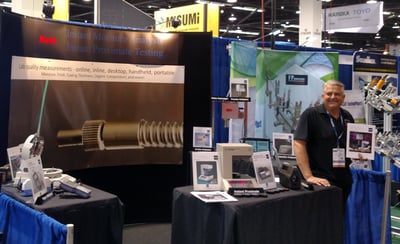 Over the years, we've had the privilege of working with a broad range of clients, serving industries that range from agriculture to pharmaceuticals, polymers and plastics, and beyond. In that time, we've discovered a myriad of ways to ensure that the instruments we provide our customers are not only precise, high-quality, and built to last, but also that they are uniquely suited to their needs.
In our 40+ years of engineering and operation, we've developed a carefully-tuned process to recommend the proper instruments for their specific needs, help them from selection to calibration, and support our clients throughout the enduring lifespan of Kett instruments.
We call this our "Total Care Solution". Here's how that impacts you, our valued customers.
The Importance of Precise Calculations (And Instruments That Work)
We know that our customers rely on the accuracy of our instruments. That's why we place so much value on ensuring they have what they need, that their instruments are built to withstand wear and tear—even in the field and in harsh conditions—and that everything is installed, calibrated, and implemented to the highest degree of precision. Why? Because even the slightest miscalculation can make for large-scale errors and costly mistakes. We do everything in our power to prevent this from happening because we care.
One of the major causes of errors in places like laboratories is a problem with the instruments used. In many settings, this can be a very serious matter—sometimes the success or failure of a product or business, or even a case of life or death. It could mean:
Miscalculations in the creation of a new polymer, resulting in a weak product that's unsafe for real-world use.
A 'too-early' or 'too-late' harvest, impacting the quality, quantity, and sale price for growers, who already operate on razor-thin margins.
An unsafe or compromised structure built on concrete that was improperly cured.
Spoiled grain stored in silos as a result of improper moisture levels.
Failed safety regulations, impurities, a misjudged shelf-life, or the wrong potency in the manufacture of pharmaceutical drugs that rely on

accurate composition analysis

.
Wasted process time, thanks to inefficient practices or mechanisms that don't serve the needs of the customer.
There are so many ways that our instruments provide users with accurate results they require for their daily operations. We take this very seriously.
The Kett Total Care Solution: How We Support You
Our research, looking at a range of independent studies across industries and sectors, shows that laboratory and plant management experts run into the following kinds of problems with the instruments they use, as well as how they apply to their daily processes:
They can't find the right instruments for their work and must rely on instruments that don't provide the accurate, repeatable, consistent, and/or reproducible results they need.
They don't have access to instruments that are accurate and durable, and their instruments fail in harsh environments or after improper employee handling.
They don't have the support required to evaluate, install, and calibrate their instruments, train their teams on how to operate these instruments, or offer ongoing guidance when they have questions.
In these kinds of situations, it's no wonder many of our customers come to us frustrated. Selecting the wrong instruments is frustrating, time-consuming, and incredibly costly.
That's why we've implemented our "Total Care Solution Package." It's our commitment to you as our customer.
We understand the frustration of buying the wrong instruments or not finding what you need. We promise to invest the time upfront to learn about your industry, discover your one-of-a-kind needs, and create an application solution that's completely tailored to your processes.
We know how hard it can be to implement new processes and fine-tune them to your needs. We will assist you with the creation of calibration curves needed for accurate readings—and we'll train your operators on-site, at no additional charge.
We know that things happen, and sometimes you need questions answered or help with a new challenge. We offer performance guarantees, warranties, and, in the unlikely event of an instrument issue, a guaranteed 24-hour turnaround to perform repairs or provide loaner instruments to get you back into full operation as quickly as possible.
At Kett, our work is never transactional. Our instruments are engineered to last—just take a look at this moisture meter that still works perfectly, over 25 years after it was purchased. We're still servicing equipment purchased 40 years ago. What does this mean for you? You can trust that with Kett's Total Care Solution, we will work to build a long-term working relationship with you and your team. From instrument selection, to calibration, to support for years or even decades to come, we are here for you.
To learn more about how our range of high-caliber instruments and customized service will take your processes to the next level, connect with our knowledgeable experts today!