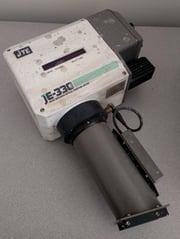 Kett has been in business for over 70 years. One of the keys to our company's longevity is actually the longevity of our instruments. Many Kett customers will tell you that they don't need another one…. Because the first one is still working great!
I was reminded of this the other day. A client contacted us and said his firm recently purchased the assets of another company that had been shuttered. When completing the inventory, they discovered one of our moisture sensors. The client was trying to decide whether to use it in his new venture. We briefly discussed the system and what he wanted to measure and decided, if the unit was operational, it would easily handle an on-line process automation effort. He sent the system to us for inspection.
We received the unit, powered it up, and, voila…. Everything was fully operational.
We added a couple accessories and options that had been lost during the shutdown and transition to the new company and he was fully operational the next week. Take a look at this video if you'd like to hear how quiet it runs after all of this time:
The end result is a 25-year-old Kett system that had been in documented operation for at least 20 of those years ran just like a new system.
While we can't guarantee your Kett will work for 25 years (unless you add an extended maintenance agreement 😊), we can promise you that you'll be ecstatic about the performance and durability. Please see our unique Total Care Warranty for more details.