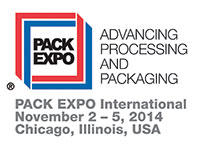 Kett will be exhibiting their accurate and reliable test instrumentation at Pack Expo, in booth #6346.
Catch up with Kett and view live demonstrations of their moisture analyzers, coating thickness gauges and friction analyzers at Pack Expo International 2014 in Chicago November 2–5, 2014, co-located with the new Pharma EXPO.
John Bogart, Managing Director of Kett US is excited to be heading to Chicago for the event and had this to say,"this is my fourth year, and I'm looking forward to connecting with industry peers, meeting up with new and current customers, and hearing the latest in technology advances for processing and packaging. It's a great show as we get to chat with everyone from senior executives to plant managers, to quality managers, engineers and product design. It's a great opportunity to hear from all levels and stages of the production process. We expect it to be busy few days."
Kett will be demonstrating some of their moisture, coating and friction test instrumentation relevant to the packaging world. The products on display from Kett have been specifically chosen for their value in the production of consistent quality packaging materials. Kett understands that accurate moisture measurement or coating thickness can be the key to making a significant impact on profit margin by optimizing production times and reducing customer returns.
Kett is accepting bookings for demonstrations from people who want to see how Kett test instrumentation can solve their problems related to moisture, friction and curling, as well as save them a considerable amount of time and money. Kett can help you choose the product specific to your needs with individualized service and support or just talk you through some options to minimize production issues you might be having around moisture, slipping, curling and many other hidden issues in packaging.
Stop by and see how Kett's test instrumentation can help improve your packaging quality, and your bottom line.
Learn more about the products Kett is displaying at Pack Expo here.
To book in a meeting or demonstration with someone from the Kett team please complete the inquiry form here.
Media and Press: If you would like to interview John or need images please call: 800 438 5388 [800 GET KETT] or email him directly at john[at]kett.com.