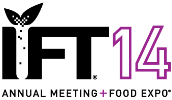 LOS ANGELES, Calif. – June 16, 2014 – Kett, the world's leading manufacturer of award-winning portable handheld moisture analyzers and coating thickness analysis instrumentation, announced today that it is attending the IFT14 (International Food Technologists) Annual Meeting and Food Expo, the largest annual food science forum and exposition in the world, June 21-24, 2014, at Morial Convention Centre, New Orleans LA, USA.
Kett, in booth 2301, is participating in the annual show for its 17th consecutive year, joining more than 20,000 other food scientists, R&D professionals, suppliers, marketers and others from around the globe who come together to learn about the innovations and trends affecting consumers, as well as the growers, processors, regulators and researchers who contribute to the food supply, both in the U.S. and abroad.
Experts from industry, government agencies and research institutions will provide insight during more than 100 educational sessions and 1,000 presentations, covering topics ranging from new health benefits, safety and product innovations to the latest consumer trends.
"We continue to exhibit at IFT as it offers an excellent environment to speak with our customers and is unlike any other event in food production," said John Bogart, managing director of Kett. "Kett's history is based in food, rice originally, and the show provides us an important opportunity to be a part of the innovation in food science and technology that is IFT."
One of the world's leading providers of moisture measurement technology to exhibit at the annual show, Kett will feature several of its market leading products including:
In addition, Bogart said there will be a variety of instant moisture and composition analyzers on hand for live demonstrations.
Recognized as a leader in measurement instrumentation, Kett is the only manufacturer in the industry making more than 200 instruments for moisture testing, composition measurement and grain processing measurement. Models are available for handheld, desktop and inline/online continuous measurement applications.
Kett also provides test equipment and solutions for industrial and agricultural applications that accurately assess, monitor and improve the quality of processes and products. Serving clients since 1945, Kett provides the most reliable, precise equipment and highest level of customer support available.
"Because of the importance of IFT to the community in which we serve, there is certainly no better place to gather and meet with current and prospective customers, to catch up on the latest industry trends and to showcase the best products we have to offer," said Bogart. "As a steadfast industry leader, attending the show again provides us the opportunity to align our products and services with those we serve and to reacquaint ourselves with the clients that have trusted our name for decades."
For Kett's clients, IFT provides them the best opportunity to examine moisture analyzers and testers on display, speak with experts in the industry and learn more about new Kett technology that is available and its capabilities.
About IFT14
The IFT Food Expo offers the industry's largest collection of food ingredients, equipment, processing and packaging suppliers all under one roof. It's the only place where the latest global food trends -- and the products designed to meet them -- are on display. For professionals involved in food science and technology, the IFT Food Expo is the single most important tradeshow of the year. The more than 20,000 attendees will learn about the most recent products, ingredients and technology developments, and their potential business impact, as well as to identify trends that will shape the industry.