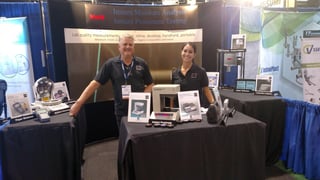 Kett exhibited at the recent Plastec conference in Anaheim, California. It was an interesting venue as we met with existing customers to discuss their ongoing measurement needs as well as some new contacts.
It's always amazing how many unusual and, at times, very specialized projects companies have undertaken in their goal to:
Conceive, create, and release to the public new products
Remanufacture, streamline and optimize existing products
Retrofit, automate and validate manufacturing and distribution processes
Thanks to those who visited our booth for discussing these goals and how our unique portable, desktop and process sensors will help them quickly realize their objective.
When we had a chance to briefly tour some of the show floor, we looked for the unique offerings and demonstrations from the other exhibitors. It was very warm in the show so this time we found the "coolest" exhibits.
Air and Water Systems Hal Wilson (owner) and Tom Caudill (Western Regional manager) were showing their cool mist humidifiers. These compact devices blow cooled moisture mist, quickly providing an environment where products can be maintained at a certain temperature level. Super quiet and super efficient, they certainly helped cool us down since the air conditioning within the expo halls wasn't cutting it. Thanks to Hal Wilson and Tom Caudill for letting us borrow their cold air!
Cold Jet LLC and Steve Wilson (Global Business Unit Director) was demonstrating their Dry Ice Blasting cleaners. This unique technology takes starts with dry ice. It then slices the ice into tiny crystals. A high pressure jet then shoots the crystals against the object.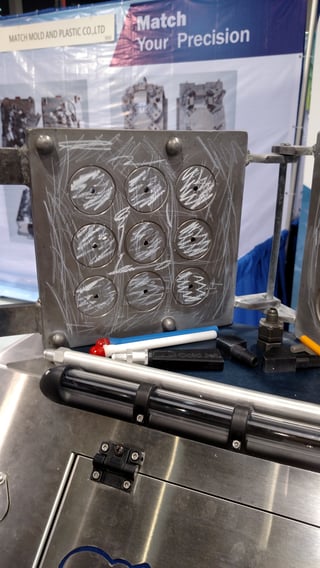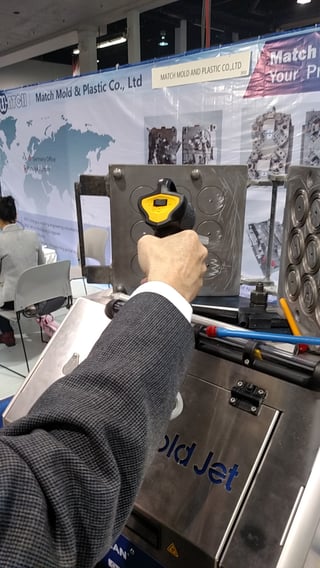 Operating like a sand blaster, dirt, grime, corrosion and other imperfections are quickly removed… similar to a sand plaster without the possible scratching and residue…. Truly a "cool" invention.
If you visited the show and didn't have time to stop by, or were unable to attend the Plastec show, please call or contact us below and one of our applications engineers will be happy to help you meet your goals for 2018.