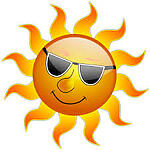 With the weather now warming up as we get closer to Summer – it's important to regularly check your grain quality. Any small change in moisture can be costly.
According to the Farm and Ranch Guide: Grain storage molds will grow and grain spoilage will occur in grain bags unless the grain is dry. Grain in the bags will be at average outdoor temperatures, so grain will deteriorate rapidly as outdoor temperatures increase unless it is at recommended summer storage moisture contents. says Ken Hellevang, North Dakota State University Extension Service agricultural engineer and grain drying expert.
To prevent loss as the temperature outside increases affecting moisture levels and quality , Hellavang recommends:
Periodically running an aeration fan.

Keeping grain temperature below 30oF

Checking grain and moisture content every two weeks.

Checking the moisture content of stored grain to see if it needs to be dried.

Making sure that the moisture content measured by the meter has been adjusted for grain temperature.

The recommendation is:

corn needs to be dried to 13 to 14 percent moisture for summer storage to prevent spoilage

soybeans should be dried to 11 percent

wheat to 13 percent

barley to 12 percent

oil sunflowers to 8 percent

Start drying when the outside air temperature averages about 40 degrees.
Kett offer a range of moisture meters designed specifically for grain quality. Below is a list of instruments with a link to their product brochure.
Portable Flour, Seed and Grain Moisture Meter, the PR930
Provides instant moisture tests from a portable handheld device, allowing you, to optimize flour, wheat and rice moisture anywhere, any time. This handheld, battery-powered instrument provides laboratory quality moisture measurements of rice flour, wheat flour, whole rice and wheat kernels that anyone can obtain by simply turning a small handle. The instant and accurate moisture tests allow users to optimize buy/sell transactions, rice and wheat milling and processing applications, and to maintain optimal flour and grain quality standards. Download Product Brochure
Grain and Seed Moisture Meter, PM650
When compared to standard loss-on-drying tests, our PM650 Grain and Seed Moisture Meter offers unsurpassed stability and accuracy. The sample cup and measurement cell are designed with accuracy in mind, to provide you with data to match the top testing agencies in the world.
While competitive devices may require husking and grinding of your grains, no sample preparation is required with the PM650 Grain and Seed Moisture Meter. Tests are as simple as pouring the sample into the machine and the moisture content and density (g/l) are instantly displayed. An easy digital output is included to document the tests to a computer or optional printer. Download Product Brochure.
A Quality, Portable Moisture Meter, The Riceter
The Riceter remains the largest selling portable moisture meter in the world, and sets the standard in excellence in the industry. Originally designed and developed in the 1950's to bring lab quality results to rice farmers in the field, the latest version has been fashioned to test rice using both the Japanese Industrial Standards (JIS) and USDA measurement criteria. We also offer versions which incorporate calibrations for testing other small seed crops, like oats, wheat and barley. Download Product Brochure
A Single Grain and Moisture Tester, The PQ5205
The new PQ5205, is a single grain and seed moisture tester that provides rapid moisture measurement of rice, barley and wheat. The PQ5205 builds on the success of its precursors, the PQ500, PQ510 and the PQ520 Single Grain Moisture testers, considered the worldwide standard for the measurement of single grain seed moisture. Download Product Brochure
All of our products come with the Kett Total Care Warranty! For more than 65 years, Kett has been considered the standard in rice quality test instrumentation. In addition, Kett is recognized as a worldwide leader in measurement instrumentation and the only manufacturer making over 100 instruments for moisture measurement, composition measurement and grain processing measurement. Our products come with a Total Care Warranty, covering parts, labor and specification compliance.
Now, is the time to get the right moisture meter in place to protect your gain quality, and income.
If you'd like to learn more about our products and how we can help you please contact us here:
Phone: 800 438 5488 [800 GET KETT]
Email: sales[at]kett.com
Inquiry Form: click here
OTHER RESOURCES YOU MAY FIND HELPFUL