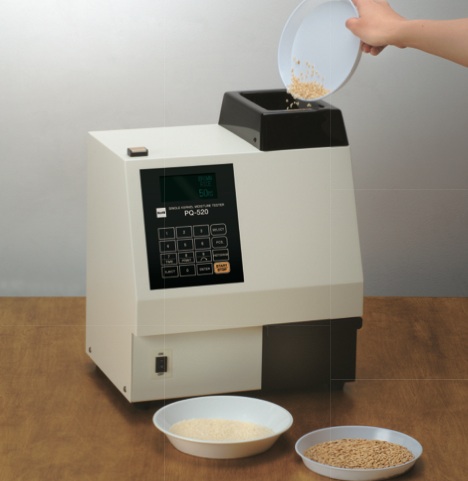 Agricultural grain and seed moisture meters are constantly adapting to meet the needs of the myriad of industries they serve. Since starting with handheld rice and grain analyzers we developed in the 1940's, we have seen a surge of new grains and seeds enter the marketplace. There are few industries in which moisture measurement is of greater importance, as the moisture content of grains and seeds cycles into every aspect of their journey from raw goods to consumers.
Seed testing to determine the quality of a seed lot and its quality often involves measuring physical purity, germination, ODV and moisture. Of these variables, moisture content (the percentage of water in a sample) often plays a key role in determining the viability of your seeds. Regardless of whether you are producing, selling or using seeds, a seed moisture meter is one of the simplest means of saving funds that are now used in sending seeds out to a seed testing laboratory. Additionally, according to TamilNadu Agricultural University, utilizing a seed moisture meter can assist in accomplishing the following objectives:
Identifying a quality problem and it's probable cause(s).

Determining seed quality for planting.

Knowing whether there is a

need for drying and processing, and when these procedures should be used.

Making sure seeds meet established quality standards or labeling specifications.

Establishing fair transactions of both raw ingredients for processing and in selling lots to the consumer market
In terms of determining the moisture content of seeds and grains, there are two basic methods:
1. Loss on Drying (LOD) using an Air Oven or Moisture Balance
This is one of the traditional methods used in the grain and seed industry. Regardless of whether you use an air oven (large scale) or moisture balance (small scale), the principle works in the same manner: Moisture is removed by drying the sample. The moisture content is given as a difference in weight between the original and dried version. While this method is prevalent in the industry, it requires sample degradation and is more time consuming when compared to other moisture measurement methods.
2. Moisture Meters
Many moisture meters use the di-electric principle, essentially wet grains are good conductors of electricity, while dry grains are less conductive. The moisture content is directly proportional to the electrical conductivity of the samples. There are a variety of moisture meters calibrated to measure precisely the types of grains and seeds in your field.
Key Benefits of a Grain and Seed Moisture Meter
Instant measurement

Pre-calibrated systems

May be non-destructive and non-invasive

Durable construction and ergonomic design

Online moisture measurement, handheld and desktop instruments

Simple-to-use: just select the correct calibration, pour a sample into the hopper, press the measure button
The new PQ5205, is a single grain and seed moisture tester that provides rapid moisture measurement of rice (brown, polished and paddy, jasmine, parboiled,11 total specific rice calibrations), barley (naked and standard) and wheat. It is factory-calibrated to measure 1- 1,000 kernels per batch, and can measure 150 kernels per minute. Each kernel is individually tested and the display instantly provides the average moisture, the number of kernels tested, and a histogram detailing the distribution of moisture values. It has an enhanced calibration set, calibrated against the ISO-712 drying specifications.
The PQ5205 builds on the success of its precursors, the PQ500, PQ510 and the PQ520 Single Grain Moisture testers, considered the worldwide standard for the measurement of single grain seed moisture. Having the ability to measure each seed and determine the distribution of moisture provides even more information to the grain purchaser or harvester. When used at harvest, it helps provide the precise optimal time to harvest (when the spread of moisture in a given field is minimal). When used at a grain auction or when processing grain and seed, the distribution (when combined with the average moisture content) helps the user optimize product consistency and manufacturing efficiency.
For those looking for a portable seed and grain moisture meter to evaluate moisture of a greater variety of grains and seeds we recommend the Riceter or PM650 Advanced Portable Seed Moisture and Grain Meter. With over 150 calibrations, the PM650 can be used in the field, near a grain elevator or at various process points to assess quality. The PM650 is optimal for use in the field to optimize harvest, at auctions to assess product quality, and in the receiving line to ensure supplier compliance.
We'll be introducing the PQ5205 Grain and Seed Moisture Meter at the International Powder & Bulk Solids Conference (PTXI) in Rosemont, Illinois next month, May 6-8.
To learn more about the PQ5205: