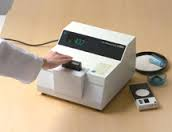 We're still trying to work off some of the pounds happily gained in just a few short days at the IFT13 conference a couple of weeks ago.
In addition to sampling some of the best (and strangest) food in today's industry, we also had a chance to showcase some of our most popular instruments. One on display was the C600 Rice Whiteness Tester, which replaced the C300 version in the Fall of 2011.

Rice whiteness is a key assessment, as it indicates the level of milling and quality of rice. Our C300 Rice Whiteness Tester set the world standard for test instruments by becoming the instrument of choice by the International Rice Research Institute. We wanted to set the bar a little higher with the C600 version, ever striving to maintain a tradition of quality, while improving designs most heavily used in the rice industry.

The C600 Whiteness tester maintains the simplicity and quality of it's predecessor, but is made for the modern lab with a lighter (3kg), smaller frame (23.4cm less depth), and more ecologically sound make up. All of our test instruments are designed to withstand the test of time in an industrial setting, which is why we've replaced the standard incandescent bulb of the C600 with a Blue LED light for a longer lifespan, lower power requirement and substantially reduced heat.

In addition to priding ourselves on instruments which ultimately optimize quality, reduce waste and increase profit as a result, each model is designed to work quickly in a fast paced setting. The C600 meets this need for speed, as the first measurement can be taken only 20 seconds after it has been turned on.

Many C600 operators are farmers themselves, quality assurance specialists or quality control analyzers. Like the NIR moisture meters and composition analyzers we've mentioned this month, our C600 is simple enough for anyone, from CEO to first-day employee, to use.

To run a test, simply fill the small sample case with grains and insert it into the machine. The whiteness results are immediately displayed on a large fluorescent screen, allowing a clear reading using low power. To run another test, the case needs only to be removed from the machine and the instrument automatically resets itself, instantly ready for the next sample to be inserted.

As with any Kett instrument, you are guaranteed to receive lab accurate results with each sample run. In this particular design, we have enhanced precision by including a unique filler and quantitative sample dish, ensuring a standard sample size of rice is measured with each test. Adjusting the instrument, returning it to its original optical standard, pre-set at the factory, is simple. With just one click of a button the original sensitivity of the whiteness meter is restored.

So, this instrument is smaller, faster, simpler more accurate and even kinder to the environment than ever... but the question remains? How easy is it to upkeep? Well, let's just say this isn't your smartphone - impossible to clean without a lot of time and tiny instruments! It's designed with the everyday worker in mind, not a highly trained electronics specialist. So, we've made it easy to maintain. Only the glass filter needs to be cleaned, and to remove, clean and replace it takes less than one minute.

Like the rest of our line of over 200 instruments, the C600 Whiteness meter is durable and created with the manufacturing (or milling) floor in mind. It has no moving parts and will give the same readout regardless of factory vibration levels or machine orientation. So, there's no need to run a sample back to the lab when your staff needs instant feedback. You can put the C600 wherever is most convenient to your team, and get lab quality results instantly.
Interested in learning more about the C600 Whiteness Tester?
Download the C600 Brochure here
Call 1-800-GET-KETT
Other articles you'll find helpful:
Kett Test Equipment The Standard For Whiteness Measurement
How To Buy The Right NIR Analyzer For Your Needs and Optimize ROI
Learn How To Improve Product Quality With Single Grain Moisture Testing