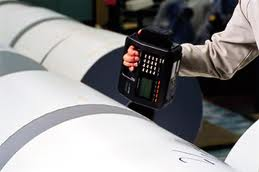 R&D, quality control and quality analysis department laboratories are rife with a variety of spectrometers. These test instruments improve the bottom line of manufacturing companies, ensuring products meet standard market parameters with minimal waste. While a variety of instruments utilize infrared spectroscopy, near- infrared (NIR) spectroscopy is specifically useful in analyzing bulk materials, often with no sample preparation.

NIR test equipment has evolved over the past decade to be used in a wide variety of analysis applications. Currently, these spectrometers are employed across nearly all manufacturing lines, measuring everything from pharmaceuticals to food and beverages, and spanning the chemical, beauty, packaging, coating, medical supply and agricultural industries. Just one spectrometer can be used to confirm the state and quality of bulk materials or raw ingredients, assess intermediate products in a processing line and confirm that final goods are ready to meet consumers' expectations.

Traditionally, samples are brought to the lab, where these high-tech machines stand ready. However, walking a sample from the field, stockroom or factory line is time-consuming, prohibited to a limited size and shape of the sample, and introduces unwanted variables. In response to these limitations, we've designed portable spectrometers, like the KJT130 moisture meter, to meet the real needs of QA, QC and R&D specialists.

Here's why we believe operations or development teams would be hard pressed to find a better investment.
10 benefits of the Kett KJT130 model NIR moisture meter:
World's first-ever rechargeable, battery operated NIR instrument
Distance indicator for optimal measurement stability and precision
Five instant analytical curve selections - up to 50 stored in memory
Stores up to 99 measurement readings
Easy to operate
Provides instant, quickly understood results
No sample preparation necessary
Ability to withstand harsh industrial environments over time
Lab quality accuracy and reliability
Lightweight (1.1 kg), designed for ease of carrying and tripod use

One of the most common questions we are asked is how our portable KJT130 moisture meter compares to the research lab in terms of providing information.

Since designing our first rice moisture meter over 65 years ago, (before spectroscopy was even invented!), we have aimed to put the lab in the pocket of our customers. While we haven't quite shrunk it down that far, you can expect research grade results from our portable moisture meters.

The KJT130 moisture meter may be the right instrument for you to take to your crops for grain measurement if you are a farmer, a crop manager, distributor, miller or food processor. However, mobile moisture testing is one of the growing trends in academic and commercial chemistry, across disciplines. A portable moisture meter is the right instrument for you if you are in need of quick answers regarding the constituents, identity and quality of raw materials and finished products, in need of monitoring materials while in use or analyzing samples on site. Regardless of how you'll use it, your phone, computer and vehicle don't have to be the only technology allowing you to be on the go when performing measurements in the field or throughout a diversified manufacturing plant, you can now tout a portable moisture analyzer.
Additional Resources:
Discover Why Ketts NIR Moisture Meter Will Wow Manufacturers at IFT13
Learn How To Improve Product Quality With Single Grain Moisture Testing
How To Buy The Right NIR Analyzer For Your Needs and Optimize ROI