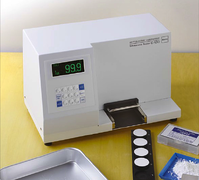 With the second quarter of 2013 well under way, the year is quickly shaping up to be one of Kett's busiest in recent memory. Following last month's successful trip to Pittcon, one of our industry's most important events, and the launch of the PQ520, our newest single grain moisture tester, I'm proud to share our latest innovation: the C130 powder whiteness tester.
We are dedicated to delivering product innovation through the best available products on the market. And although innovation is nothing new for us after 65 years, we maintain our commitment to leading the market forward and meeting your needs as our highest priority.
It's quick, it's versatile
You'll find that the C130 allows you to quickly measure the whiteness of powders wherever and whenever you need to. It is designed for use in the lab, in near-line process, and for remote QA/QC applications where quick and accurate determination of whiteness and purity is required.
Like all of our devices, the C130 is simple to use. For example, there's no sample preparation required. It can be easily be calibrated to measure a host of substances including:
rice flour
wheat flour
starch
calcium carbonate
salt
pharmaceutical powder
cement
Calibration for specialized applications
One factory calibration is included with purchase of the C130, and it can be calibrated for nine additional settings, which is perfect for specialized applications where you need to adjust it to your unique application requirements.
Simple process
During sample measurement, simply select a calibration, load the small sample holder with powder, place the sample onto a tray, and slide the tray into the C130. From there it automatically detects the sample and provides a measurement in less than two seconds, which is, without a doubt, pretty fast.
Instant results
You'll see the results displayed on the large LCD screen, and if you like, the samples are automatically averaged. For additional ease of use, the tester includes a digital output for connection to an optional thermal printer or PC, providing for full measurement documentation.
Efficient - reducing cost of operation
There's no doubt that the "C" line of Kett instruments is recognized as setting the standard worldwide for whiteness and purity measurement, but the new C130 continues to raise the bar on its own operational efficiency. It offers a 59 percent reduction in sample requirements, a much smaller footprint, lower heat generation and energy usage because of the use of its LED light sources. The LEDs alone allow you to minimize the cost of operation because of their long life -- estimated in excess of 20,000 hours -- and reduced energy consumption.
For those of you familiar with our product line (and those of you who are new to the fold), the C130 builds on the success of its predecessor, the C100, long one of the most reliable stalwarts of the analyzer market.
Next steps
Download the C130 product brochure to learn more about this exciting new addition to our product line.
If you have questions or need a quote - call us directly on 800-438-5388 or email us here
And, as always, thanks for trusting us with your most important priorities. We look forward to serving now and well into the future.