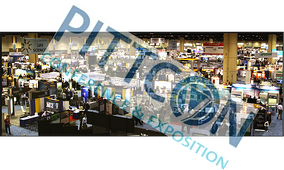 Today marks the end of a terrific Pittcon exhibition. Once again, we had the opportunity to meet with some of our clients, many of who have supported us for several years, while also meeting and getting to know several of our newer customers. In the meantime, each of us in attendance was able to see some of the latest technological advancements coming forward. This year, Kett announced it's latest innovation: the new single grain moisture tester, the PQ520.
The new Kett PQ520 analyzer provides rapid moisture measurement of rice, barley and wheat. Like our other market-leading instruments, the PQ520 is designed for use in laboratory, near-line process and remote QA/QC applications where quick, accurate determination of moisture content is required. We believe it's innovation at its finest.
The reason we chose to announce the release of the PQ520 at Pittcon was simple: This is where innovation lives. Pittcon is one of the most important events of its kind, featuring more than 1,000 exhibitors displaying products used by the scientific community in industrial, academic and government labs.
We're proud to stand alongside some of the best partners our market has to offer and meet other likeminded, forward-thinking individuals and leaders, and the very folks that make working in this industry so worthwhile.
At the same time, we're proud to call Pittcon our partner and to have been serving the market for more than 65 years. This year was Kett's 21st straight year attending the annual event. Added all up, in the last two decades, we've spent nearly half a calendar year in Pittcon, we're honored to be part of the celebration this event brings.
Because of the importance of Pittcon to the community in which we serve, there is almost no better place to gather and meet with customers, to catch up on the latest industry trends and to showcase the best products we have to offer. The exposition always offers the latest innovations in areas such as analytical chemistry, drug discovery, nanotechnology and a whole host of important industries in which Kett is a part of.
In addition to it being a great show, we at Kett were able to feature more than 20 of our market-leading products including several new offerings (the PQ520, for example) that provide moisture and organic composition analysis and coating thickness measurement.
Kett is and remains the world's leading manufacturer of portable handheld moisture analyzers and coating thickness analysis instrumentation. And we'll continue to show our commitment to this market and to those we serve with ground-breaking innovations that improve product quality, production processes and profitability.