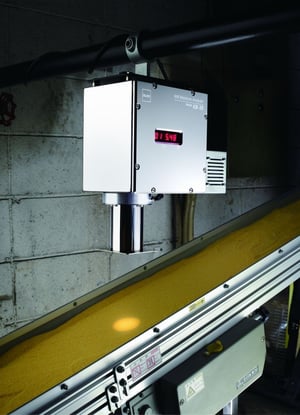 We live in a world where we are increasingly surrounded by "smart" technology. From smartwatches and other wearable devices to virtual assistants and even smart lawnmowers, and ceiling fans, smart technology is all around us.
In the manufacturing industry, smart technology is starting to infiltrate the processing floor. How do we see this show up?
Artificial intelligence
Blockchain in manufacturing
Industrial Internet of Things
Robotics
Condition monitoring
Cybersecurity
For most of these technologies, you need data—in real-time. When precision matters and you need accurate results and data, you need a reliable, smart online process analyzer.
Kett has taken modern-day smart technology and implemented it into a moisture meter that can be used in-line to revolutionize and streamline the way you manufacture goods. Here's what you need to know about our KB30 Online Moisture Meter.
Connection-Free Testing
The truth is there's nothing smart about instruments that are chained to cords and confined to cables, especially in manufacturing. Manufacturing floors are already crowded with enough equipment. If you want accurate moisture readings that happen in-line, you can't deal with bulky cords and connections to computers, keypads and external switches to transport your data where it needs to go.
Kett's KB30 Smart Online Near-Infrared (NIR) Moisture Meter utilizes a smart sensor design, which sends measurements to controllers, computers, and other devices without any hardwired intermediate connections. This gives you the power to do things like:
Local process control
Remote data integration
Improve existing processes or create efficient new ones
The KB30 is additionally "smart" because it works with any device—with converters for wireless, IP, DeviceNet, and other interconnection and device protocols.
Rapid Measurements and Data Collection
What's smart about our online moisture meters? These instruments are taking rapid-fire measurements that can be sent directly to data collection software. With this data in place, you can fine-tune your processes based on real-life information about your specific products.
The monitoring capabilities are paired with Kett tracking and data analysis software, so you get high-powered solutions that help you improve your overall processes. What does this accomplish?
You get data on historical performance trends, cyclical rhythms, and periodic failures
You learn more about the impact of changes in your components, processes, and environmental conditions for condition monitoring
You have documentation on the existing quality of your products
When you use a non-contact, online moisture sensor like the KB30, you can get multiple measurements per second all stored within your software, which means real-time, precise measurements and a maintenance-free alternative to laboratory testing that can be too time- and labor-intensive to be practical. You end up with an enhanced way to monitor your product to ensure accuracy and process optimization.
Why are rapid measurements so crucial to your process? If you can control your line immediately and make adjustments on-the-spot, you are worlds ahead of older processes that required time-consuming weighing and drying. Even using NIR technology in the lab calls for a total halt of production when one sample is not compliant.
Inline, rapid measurements mean quality control. You can alter specifications quickly using real-time data to end up with better quality products overall.
A Multitude of Applications
The KB30 Smart Online Process Analyzer can be used to read moisture content levels in so many different materials that it would almost be easier to make a list of the materials that can't be successfully measured.
In production lines and across industries, the KB30 has been used to test pharmaceuticals, chemicals, textiles, foods, pulp and paper, minerals, lubricants, and personal care products. These smart analyzers have been successfully used in the following applications:
Wood products including fiber, pulp, chips, and sludge
A variety of foods including processed, baked, ground, and mixed, as well as the ingredients that comprise foods
All weights and grades of coated and uncoated papers
Chemicals in all forms, encompassing pellets, powders, blocks, chips, liquids, and slurries
Minerals in any form like powders, pellets, concentrates, and sludges
Pharmaceuticals like pills, capsules, powders, and raw materials
The Benefits of Online Process Analyzer
While the uses for a smart online process organizer are great in number, so are the benefits, which can have a dramatic impact on the speed, accuracy, and success of production.
What kinds of perks are there to using a smart online process analyzer? Here are a few major reasons they're worthy of implementation:
Improved speed and more accurate results thanks to the ability to use real-time analysis over sampling and lab testing
Lowered costs resulting from minimal laboratory analysis during production
Greater confidence in analyzer values and better reliability for process measurements
Reduced staff workloads thanks to the ease of in-line analysis
Expanded, simplified testing capabilities are given to less-skilled technicians
Continuous inputs into process systems for better plant optimization
Rapid refresh of variable and fast-changing products for more accurate results
Essentially, with a smart online process analyzer, you save on operating costs thanks to real-time, accurate process control. You eliminate product giveaway and drastically reduce the need for meticulous, time-consuming lab testing.
Kett is proud to offer the world's smallest, smart inline system. You get the unbeatable accuracy Kett is known for in a size that fits most applications.
It's time to make your solutions smart. Get the trustworthy test results you need without connecting to controllers, computers, or other devices. Do you have questions about the best way to implement a smart online process analyzer in your business or on your manufacturing floor? Whether in-line or in the lab, we have the solutions you need, and the engineers standing by to guide you through decision-making.
We can't wait to collaborate with you. Contact us today to learn more about smart online process analyzers, and the impact they can have on your operations.