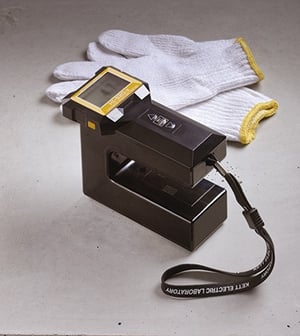 The HI520-02 moisture meter has 6 calibrations that are preset and ready to go, but if this is not enough, fear not. You can add your own customized calibrations. With many moisture meters, calibrating your instrument can be tricky. This is not the case with the HI520-02.
The HI520-02 is so simple to prep for use. It takes a matter of seconds to calibrate, and then you're ready to go. Once your moisture meter is up and running, measurements are instantaneous. You can record each measurement with the mere press of a button. Plus, with sizable storage, you can use it for an extended period before you have to download your data.
The HI520-02 can also hold up to 1,000 measurements in its data memory, and then this information can be downloaded to a computer for analysis. With this much storage, there are fewer interruptions in taking measurements. This also helps when you want to measure a batch of products, say drywall on a production line or after it is received at a job site. One customer noted he used it to confirm that concrete flooring on a 20-story building was ready for custom surface treatment. He was able to test the entire project in one morning.
The HI520-02 is also good to go with a variety of materials, from concrete and mortar, to drywall and other solids. This gives you flexibility when you inspecting a building site or have multiple needs over time.
Another reason it's easy to use our moisture meter? It can go anywhere! Lightweight and portable, operated with a 9-volt battery, and with a dimmable backlit screen, your HI520-02 moisture meter is ready to go with you wherever you are. Even in the biting cold of winter or scorching heat of the summer, your HI520-02 goes where you go, with automatic temperature correction that gives you accurate moisture levels despite temperature variances in ambient or material conditions.
Check out this video to see just how easy it really is to use our moisture meter! Ready to purchase the HI520-02... Order here!
Have questions about using one of our moisture meters, or want to discover which moisture meter is right for you? Contact Kett today!