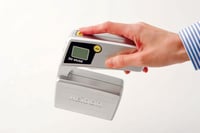 Last time we talked about tribometers and how they're used to keep machinery and your employees safe. Below is a video demonstration some of the features of our H37 3D Portable Friction Tester.
The Heidon H37 3D handheld friction tester, provides fast, accurate measurements of the coefficient of static friction, on any surface and at any angle, even upside down. This capability and the portability of the instrument allows tests to be conducted on-site, whether on a floor (slip and fall analysis), a conveyor (slip/stick of processing), or a wall or sloped surface (surface treatment analysis).
We want to keep your machinery running, your employees safe, and your company working.
Do you have questions about which tribometer is right for you? Trying to decide between a handheld model or a desktop version? Contact us today, and let us help find the perfect tribometer to keep your workplace safe and happy.