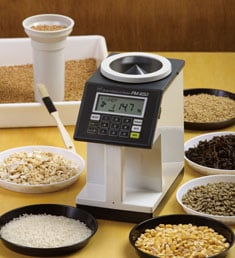 Sesame is very likely one of the oldest cultivated crops in the world. For thousands of years, it has been grown for use in oil and other applications, such as sesame meal and sesame flour. Records of sesame crops date back as far as 1600 B.C. in the Tigris and Euphrates valley regions. In some cases, it is even used in all-natural beauty products because of its antioxidant properties.
While sesame crops have a rich and varied history, they are still an important crop today for many reasons. For starters, sesame is a very drought-resistant plant, making it perfect for drier climates.
Sesame seeds are used to produce sesame oil, which is in constant high demand and is used in salad dressings, cooking oils, margarine, and soap. Sesame oil is even referred to as the "'queen' of vegetable oils." It is also found in paint, perfumes, and even insecticides. Moisture plays an important role in the crop yields of this versatile plant, which is why it deserves the attention of sesame growers everywhere.
Moisture Levels During the Growing Season
Sesame handles periods of drought very well, thanks to its extensive root system. However, to produce high yields, sesame crops require moderate to high moisture levels for a successful yield.
In the U.S., sesame seed growing and production is mostly limited to the South. This is because harvestable cultivars don't thrive in cooler climates. Most production for commercial use happens in Texas and Oklahoma, but some production is spreading to Kansas and Arkansas.
The crops can tolerate both drought and excessive water levels, but both will result in significantly lower yields. It is the moisture levels before planting and flowering that can have the most impact. With the right levels of irrigation, growers can find more success in their overall crop production.
Farmers can adjust their sesame seed planting applications to accommodate dry or moist soil by varying the number of seeds per foot. In average conditions, growers can plant between 25 and 35 seeds per foot. In lower levels of soil moisture, farmers should plant closer to 30 to 40 seeds per foot. Where the moisture levels are optimal, growers can reduce the number of seeds they use to between 20 and 30 seeds per foot.
Knowing the soil moisture levels can have a major impact on profits. Overplanting can affect crops and also cost farmers more in the price of seeds. Not planting according to soil moisture levels can also limit crop yields. Growers need to adjust accordingly. An HB300 Programmable Moisture Meter can help growers monitor moisture levels during planting to encourage proper germination and strong crop growth.
Storing Sesame Seeds
Sesame seeds are small and flat, making them perfect for adding texture and flavor to certain dishes. However, their size and shape make it hard for air to pass through the seeds when held in a storage bin.
Because of this, it is recommended that seeds are harvested as dry as possible and then stored at moisture levels of 6% or less. If the seeds have moisture levels that are even slightly higher than this, the seeds can heat up quickly and become rancid, resulting in lost profits for growers.
Also, freshly harvested seeds should not be left sitting on a truck for too long or covered with a tarp on a sunny day. In either scenario, the seeds can heat up and spoil. If stored properly, though, packed seeds have a two-year shelf life with minimal reduction in overall quality.
The PM650 Advanced Portable Grain and Seed Moisture Meter is ideal for monitoring moisture levels in sesame seeds and contains 150 factory calibrations and quick test cycles. It also includes calibrations specifically set and engineered for wild sesame crops. This allows growers to focus on producing high-quality crops instead of on preparing test samples.
Our team of engineers at Kett is committed to helping growers do what they do best. We pair our extensive knowledge of laboratory-quality instruments with decades of experience working with those in the agriculture industry. To learn more about the instruments we have that can optimize your crops, contact us today!