Kett exhibited at the 2019 Pittcon last month.

We had such a great time and met so many existing and new contacts we didn't have a chance to write about it until now.

The Pittsburgh Conference (Pittcon) is held annually and is one of the pre-eminent technical conferences in North America.

It's a unique gathering where scientists, industrial users, developers and dreamers convene to see the latest in measurement technology and learn about unique and novel ways users have implemented the technology.

The net – lot's of brain power.

2019 was Kett's 26th year as an exhibitor.

This year, the show was held in the Philadelphia Convention Center. The weather was cool but the attendance was hot. As you can see from the photo of our booth… the lights were bright on Kett and our visitors. We had two highlighted products this year. Our KB230 advanced desktop moisture analyzer and our BSR1700 online scanning spectrometer. Both had great interest.

The KB230 allows users to obtain instant, non-destructive moisture measurement of liquids, slurries and solids. It can even measure samples through plastic bags and cups. The KB230 can operate without connection to any computer, external keypad, or other device, making it ideal for near-line and receiving areas where computer usage may not be advised or warranted.

The BSR1700 provides instant simultaneous measurement of multiple organic constituents – while the product is moving on a production line. In addition to being non-destructive, the measurement is completely non-contact, making it ideal for foods and hazardous products where contact is not allowed. Being a full-spectrum system, the BSR can measure multiple similar organic components. As an example, multiple proteins, sugars, and oils could be measured. This differs from our filter-based composition meters where only simultaneous 'macro' organic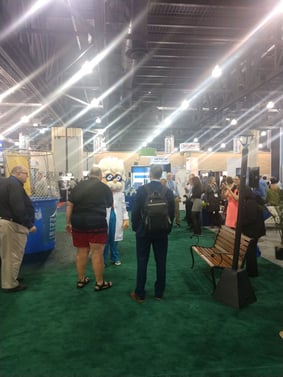 s can be measured. The BS-series continues our history of making our instrumentation "smart". Like the KB230, it can operate without any external connections.
Our staff had limited time to visit other locations in the show but we did notice two locations. First, others must have been "hot" as they needed to use the dunk tank to cool down… Second, the main atrium of the convention center is a masterpiece of art... Beautiful.
To those who met us, thanks! To those who didn't, we look forward to seeing you next year.