Pittcon 2014, Chicago, Illinois – March 2, 2014 Kett keeps pushing the boundaries of innovation to meet customers' needs and budget with two new affordable moisture measurement instruments which will be on display, for the first time, at Pittcon 2014, booth #3402.
The world's leading manufacturer of award-winning portable hand held moisture meters and rice testing instrumentation, announced today they will be introducing the KB30 Online NIR Moisture Meter and the FD660 Moisture Balance at Pittcon2014, booth #3402. These new additions will join Kett's line of world-class NIR moisture meters to offer Pittcon attendees the world's simplest and most accurate instruments.
"This is a our 22nd year at Pittcon, and I'm particularly excited about launching the KB30 Moisture Meter and FD660 Moisture Balance this year because I know these instruments meet a gap in the marketplace. In addition to being compact, reliable and easy to use, these two items are affordable without compromising on any of our quality or standards." Says John Bogart, Managing Director of Kett. "We've secured a large display so we can showcase a wide range of measurements instruments giving people a greater opportunity to see them working." Bogart concludes.
One, Simple to Use Instrument to Optimize Yield, Usage and Quality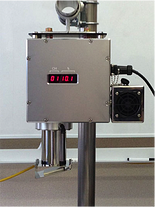 The KB30 Moisture Meter provides instant, non-contact, non destructive moisture measurement of any liquid or solid utilizing near-infrared (NIR) technology. Easily mounted over a process line, a product can be instantly measured without contact or sample preparation. Scientists and engineers can continuously evaluate their products remotely, and even optimize yield, usage and quality after connecting the KB30 Moisture Meter to a PLC or Controller.
Industry Standard Moisture Measurement Now at Affordable Prices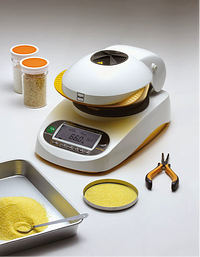 The FD660 Moisture Balance, provides rapid, direct measurement of moisture or solid content in any liquid or solid within minutes, and generally requires no sample preparation before testing.
Designed for years of use in the most stressful environments, the FD660 moisture balance offers reliable results in the laboratory or near-line process control applications, where quick, accurate moisture readings are required. A full-featured moisture balance, it uses two unique organic carbon heating elements- providing twice the efficiency of halogen lamps and lasting four times longer than traditional systems. These improvements give users substantially lower total-cost-of-ownership (TCO). It is also the only moisture balance in its price range to offer a "pre-heat" mode, eliminating measurement error during testing.
Kett backs both new instruments with a unique one-year, "Total Care" manufacturer's warranty on parts, labor and specification compliance. Get complete brochures on these exciting new additions to the Kett product from booth #3402.