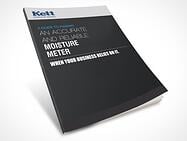 Innovative test instrument manufacturer and supplier, Kett, offers agricultural, food processing and industrial manufacturers a free guide to purchasing the right moisture meter for their operational needs.
ANAHEIM, California – Aug. 29, 2013 – Kett, one of the world's leading manufacturers of moisture analyzers and scientific instrumentation for the process industry, today announced the publication of their new eBook, "A Guide to Finding an Accurate and Reliable Moisture Meter - When Your Business Relies On It."
Kett, known for leading innovative instrument designs, like the C130 Powder Whiteness Tester, released earlier this summer, and the PQ250 Single Grain Moisture Meter, released in March, has once again pioneered a novel approach. This time, it's offering process control, R&D, quality assurance and quality control specialists, or anyone invested in improving their company's operations, an inside, step-by-step guide to the complex process of purchasing a moisture (or organic composition) analyzer. The ebook also addresses specific issues faced by those in the agricultural and food manufacturing industries, in line with Kett's 65 year history as manufacturer of grain and rice moisture analyzers.
The straightforward guide details the value of moisture measurement, as well as the disastrous effects inaccurate moisture levels can have on a product's weight, shelf life, long-term consistency and processing effectiveness, and overall quality. The guide addresses basic legal regulations (regarding moisture levels) some industries face when selling their products, particularly in regards to raw food, gypsum, sludge disposal and pharmaceuticals. Kett also makes note of the financial benefits of investing in a durable, state-of-the art moisture meter, emphasizing optimized production efficiency, increased quality consistency and improved equitable transactions. The eBook cites a 2010 study by the FAOUN (Food and Agriculture Organization of the United Nations) that demonstrated a 1% increase in moisture at harvest time would yield 8 million kg more of sellable corn, potentially adding 15% to total profits.
Kett concludes it's eBook by walking readers through a series of questions aimed at identifying specific company objectives. It offers an inside perspective on how to best approach a moisture meter manufacturer or distributor, including providing readers with key issues to address with their instrument provider. It also offers price comparison guidelines, explaining key post-purchase factors, such as guarantees, warranties and the total cost of ownership.
In addition to providing consumers with a wealth of information and free consultations, Kett offers the industry's widest selection of moisture meters, organic composition analyzers, and grain and seed measurement instruments. Currently Kett provides over 200 different models of test instruments. Moisture meters range from handheld to desktop and inline/online continuous measurement models. In addition to specializing in moisture meters and powder whiteness analyzers for the rice industry, Kett also offers test equipment to address coating thickness measurement, friction, wear, peel, adhesion and other applications.
Kett is now offering a free download of the eBook on their website, Kett.com, along with more details on their wide selection of moisture meters.
To learn more about Kett's range of quality instruments, or for interviews please contact:
John Bogart
Managing Director
1 800 438 5388