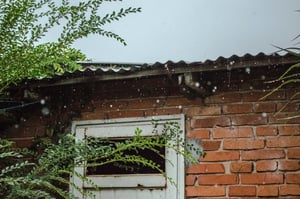 While hurricane season 2018 is in full swing, it's time to stop and double check: Are you fully prepared for the next torrent of rain and gale force winds? Are your home and business ready?
There is a laundry list of preparations you should go through each hurricane season to ensure both you and your home can weather the storm, and as you prepare, we think that one of the best tools you can have to fortify your home is a moisture meter.
Why is a moisture meter a must-have for hurricane season? How can you best use it to prepare your home? Let's explore the ways you can use a moisture meter so your hurricane season stays as dry as possible.
Tracking Moisture Intrusion Points
As you ready your home for a hurricane, it's important to check for pre-existing moisture issues. Every home has a host of possible entry points for moisture: places that water can start to creep in. When hurricanes blow into town, downpours of rain and potential for flooding, plus heavy winds can create a "perfect storm" for water to work its way into the structure of your home or business, compromising the structure and creating long-term problems for you.
Now is the best time to prepare for the next major hurricane or tropical storm. You can use a moisture meter to check seams in drywall, joints in the siding of your building, corners of the foundation, the border of the dryer vent, the hookup between the air conditioning unit and your home. All of these locations are easy access points for water to work its way into your home and wreak havoc.
Detecting a point of entry for moisture means you can prepare ahead of time for water damage and make any necessary repairs and implement additional precautions. Basements can be sealed to protect the foundation, seams can be mended and sealed, doorways can be weatherproofed and both doors and windows can be hurricane-proofed with hurricane shutters, and borders can be caulked.
Why is it so important to take stock of moisture damage before a hurricane? Because moisture weakens the integrity of the structure, and if the structure has already been weakened, you are putting your home at additional risk for major damage during the high winds and heavy rains of hurricane season.
Post-Hurricane Uses for a Moisture Meter
Another way a moisture meter can come in handy during hurricane season? Checking for moisture damage after the storm. Hurricanes can dump as much as 10-15 inches of water in any given area as they roll through, and that can make for a lot of damage, and a lot of necessary repairs.
If you've been the victim of flooding, or even just strong weather that accompanies a hurricane, you need to take the time to evaluate what materials may have been compromised by water and need to be torn out and replaced, including siding, any drywall that may have been exposed to water, all areas of the basement, the roof and attic, and all doors and windows, and the walls around them. Check out tips on how to check for moisture in drywall. Be sure to follow the proper protocol and remember to follow up with your insurance company.
The time after a hurricane is not the time to wait and see what dries out; it's the time to act, to investigate, and to protect your property investment.
Which Moisture Meter Should You Use?
So which moisture meter is the best fit to protect your home or business? What will work with varying materials, and give you an accurate read each and every time? Chances are that the moisture meter that is the best fit to check all the surfaces of your home for creeping moisture is a universal moisture meter.
You can also use a near-infrared moisture meter for instant readings. The advanced instant concrete moisture meter has numerous calibrations, including a calibration for drywall. There are countless options available to you, so you can be sure you have what you need to ready your home for the next big storm.
Ready to roll up your sleeves and start preparing for hurricane season? Don't let the next storm catch you by surprise - begin your planning now, so that your home or business is ready to withstand the weather. Contact us today to see how a Kett moisture meter can help strengthen your property before the next storm rolls in.