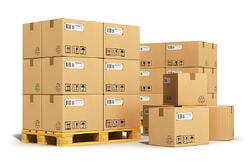 Coming up in just a few weeks, I will be heading off PACK EXPO International 2014 in Chicago where I will be showcasing some of Kett's cutting edge test instrumentation relevant to the packaging world.
This is my forth year, and I'm looking forward to connecting with industry peers, meeting up with new and current customers, and hearing the latest in technology advances for processing and packaging.
The products Kett will be demonstrating were chosen specifically because we understand the importance of how accurate measurements such as moisture content or coating thickness can save you tens of thousands of dollars by: improving production times, reducing customer returns and cutting down on loss of goods. We know that getting coating just right in the production and printing of packaging is crucial and can make a significant impact on your profit margin.
Here are some of the products we will be demonstrating at Pack Expo:
Paper Moisture Meter

This simple to use instrument measures the moisture content in paper, kraft, and paperboard. Testing can be accurately and quickly achieved without the need for time consuming pre processing of the samples or altering the test source in any way. This dramatically reduces testing times and allows you to focus on the quality of your output rather than sampling and preparation. Download product brochure here.

Coating Thickness Gauge

The Kett LZ990 is an essential tool for package labeling. It provides instant, accurate measurements in a single, compact integrated package which ensures film coating thickness is correct the first time and every time at any point of the production/fabrication process so quality is always assured. . Download product brochure here.

Portable Handheld Friction Tester

The H37 portable hand held friction analyzer is unique in that it provides a coefficient of friction measurement in any angle... Even upside down, which means you can use it on the production line and on the finished product thanks to it's flexibility. . Download product brochure here.
The right test instrumentation can solve so many costly errors along the production line and supply chain but choosing the right solution is difficult. The decision making process is so overwhelming that it can lead to paralysis with nothing being done at all until it's absolutely necessary. Often by which time you've lost time and money which you can never recoup.
When I sit down and show people a cost/benefit analysis it's at that time they wonder why they haven't taken action sooner. PACK EXPO International is the perfect time for people to talk to me about the ROI and true benefit to their business of using the right test instrumentation. I will be booking demonstrations and meetings with people who need help finding the right solution for issues such as moisture and coating that affect packaging quality. You can pre book here.
Please take 10 minutes to stop by our booth 6346 and lets discuss your needs, solutions and ROI.
Learn more about the products we're displaying at Pack Expo and book in a meeting here.
Other Articles You May Be Interested In:
How To Accurately Measure Moisture, And Avoid Curling In Packaging
How Do I Calculate The ROI When Purchasing A Moisture Meter?
Learn How To Choose The Right Test Instruments You Can Rely On