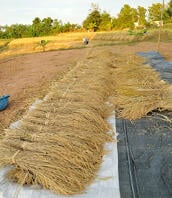 In today's article, we will explore some of the more common questions I get asked when people are looking to buy a Grain & Seed Moisture Meter.
Obviously when making a purchase like this, the object is to optimise your profits with accurate technology. It's not always cut and dry though (no pun intended) when it comes to a moisture meter. With so many on the market and for so many specific uses, how can you be sure the one you choose is the best for your circumstances?
I'd suggest you keep these points in mind:
Accuracy

Price

Calibrations

Versatility

Warranty

In other words, what is the price point that suits you and can it do what you need it to for this price? If not, it's not a wise investment and will not give you a return on your outgoing cost of purchase. What are the calibrations? Will they suit my needs? Can the calibration be tailored to my purposes? You need it to function to your specific needs after all. Can the instrument handle multiple product measurement requirements? Is it versatile in its functions and uses? Wouldn't it be wise to invest in the instrument that can do the most tasks for the right price?
Let's explore why I recommend these 5 points when choosing the right Grain and Seed Moisture Meter for your purposes.
Accuracy
Having an instrument you can rely on to provide accurate measurements is most important. When reliable product quality is essential you need an instrument that measures accurate results all of the time. This provides peace of mind in knowing you're consistently supplying product quality that your customers' expect, plus maximizes your profit margin to ensure the highest ROI.
Price
Price is always going to be a major point of consideration in any purchase. In this case, it's not necessarily how much the device costs that is the key but rather, it's value for money and/or does it deliver what you need for the budget you have – ROI Return On Investment. When searching for the right Grain and Seed Moisture Meter, I recommend to research what each device is able to do in your price range. Does it have the features you simply cannot live without? Is it portable if that's necessary for your needs? Are custom calibrations an option if this is a necessity? Will it analyse the seed and grain types you need or does it measure only one?
In short…. . Which meter gives you the most bang for your buck and delivers what you need.
Calibrations
It's essential to consider what calibrations you need. Choose a meter that provides an array of calibrations if you need to measure multiple products. If you need custom calibrations look out for an instrument that can offer this too. Kett can create custom calibrations for special requirements which is worth thinking over during your selection process. By choosing a unit with the most capacity for calibration, you may save yourself having to buy several more devices down the track. Calibrations should also be able to be adjusted for local conditions, particularly if you are using the device over several locations. A moisture meter with multiple calibration settings also allows you to measure a huge array of products rather than just one. Again, if the meter can be used across your entire range of products… if you produce more than one, is highly recommended.
Versatility
All moisture meters are the same right? Wrong. But, they all do basically the same thing yes? No. And further yet, not all moisture meters are created equal. It's incredibly important to take your individual needs into account when making technology purchases.
I touched on this earlier but some major points to consider when choosing the right moisture meter for you is that you may need your unit to be compact and or light. Look for a device that is going to be easy to pack when travelling to any location and is battery operated for remote spots.
A moisture meter that provides world class results with simple operation is the ideal choice. Large buttons, audible commands, simple features, easy to read results that are instantly available are all boxes to tick when researching the options. These features are particularly relevant in stressful environments.
Warranty
Always, make sure your instrument is covered by a warranty. The last thing you need is to be in the purchasing boat yet again due to instrument failure after only a season or two. Some Kett systems are still used each year after more than 20… this is the type of durability and reliability most customers desire.
Make sure you check the boxes most applicable to your needs and by doing so, you will in turn be looking after your business' profit margin in the purchasing process.
Articles you may find helpful:
How To Use A Single Grain Seed Moisture Meter To Determine Quality
KJT130 Moisture Meter: 10 Benefits of Taking The Lab To The Sample
How To Maintain Optimal Moisture Level For Grain Quality In Warmer Weather