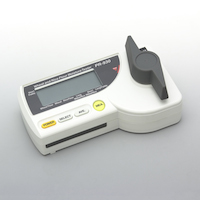 As a process engineer in a highly competitive industry, it's imperative you stay up to date with the latest technology and processes. You understand how a small change in your cost or performance structure makes a huge impact on your bottom line.
We understand that the ROI of any new investment is paramount and you need to see immediate change in your product quality, throughput or energy usage. That is why at Kett we continue to develop innovative test equipment that meets the needs of people like you.
So while you're attending the International Powder and Bulk Solids Show next week, May 6-8, we'd like to give you five good reasons to visit Kett Test Instruments at booth #2710 to see our unique portable flour, seed and grain moisture meter, the PR930, on display for the very first time.
It's portable! Our new PR930 provides instant moisture tests from a portable handheld device, allowing you, to optimize flour, wheat and rice moisture anywhere, any time.
It's easy to use! This handheld, battery-powered instrument provides laboratory quality moisture measurements of rice flour, wheat flour, whole rice and wheat kernels that anyone can obtain by simply turning a small handle.
It's quick and accurate! The instant and accurate moisture tests allow users to optimize buy/sell transactions, rice and wheat milling and processing applications, and to maintain optimal flour and grain quality standards.
It's versatile! In addition to the rice flour calibration, the PR930 is similar to the PR920 Instant Flour moisture meter and includes calibrations for wheat flour, wheat kernels, long grain and short grain rice (milled and paddy rice). A list of product calibrations, moisture measurement ranges and the lab method used for calibration may be viewed at: PR930 Flour Moisture Meter Calibration List
It comes with Kett's Total Care Warranty! For more than 65 years, Kett has been considered the standard in rice quality test instrumentation. In addition, Kett is recognized as a worldwide leader in measurement instrumentation and the only manufacturer making over 100 instruments for moisture measurement, composition measurement and grain processing measurement. Our products come with a Total Care Warranty, covering parts, labor and specification compliance.
Interested in a portable Flour, Grain and Seed Moisture Meter?Download the brochure here.
Would you like to see a live demonstration of the PR930? Visit Kett at Booth 2710 at PBS next week, May 6-8.
We look forward to meeting you there.
Additional Resources You May Find Helpful