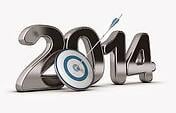 This has been a year of great growth for us at Kett. We've expanded our Internet presence into Facebook, Twitter and LinkedIn while providing weekly updates through our blog. We've even expanded our presence in the real world, attending trade shows and expanding our global distribution. However, none of this means anything without state-of-the art, world class instruments to back it up. Innovation is one of the most important values we hold at Kett. Every instrument is designed to meet, or exceed, global standards, which is why we make sure our updated models are implementing progressive technology. So, here's a countdown of our top 10 models to outfit your operation in 2014.
Just released this month, the PR920 instantly measures the moisture content of any powder, and is our only low cost portable instrument fit for the measurement of rice flour or any powdered product. We've condensed years of grain moisture measurement success into our latest moisture meter, which includes a factory calibration for milled (white) rice for our customers who need both brown and white rice measured with a single instrument. Our other factory calibrations cover rice flour, long-grain milled rice and short-grain milled rice.
Our innovations continued with the launch of two new portable rice huskers. These new instruments provide rapid, precise husking of paddy rice kernels, producing hulled brown rice for use in moisture meters and for research grade analyses of rice characteristics. Both designed to be used anywhere, the TR130 is hand powered while the TR250 uses AC power (100-240V).
Offered for the first time in November of this year, the BSS1700 is the latest in world class composition analyzers. This simple-to-use device allows users to measure organic concentrations (moisture, fats, oils, proteins, sugars and more) within a sample. Providing rapid product identification and organic concentration measurements in any liquid, solid or gas sample, the BSS1700 significantly extends test capabilities of our Near Infrared product line.
Launched at IBIE this October, our latest grain and seed moisture meters offer our traditional easy to use, non-destructive, moisture measurement capabilities in small objects in addition to grains and seeds. Offering over 150 factory calibrations, the PM650 allows you to measure a huge array of products with just one portable moisture meter. The PM450 is a portable model that measures the moisture content of 26 of the most popular foods, including wheat, barley, corn, soybeans, oats, rice, beans and coffee.
Also introduced for the first time at IBIE, this simple-to-use device allows users to quickly measure the whiteness and purity of any powder sample. Tests are able to be completed without any sample preparation. Replacing the C100, the standard instrument of the International Starch Institute, the C130 can be calibrated for measuring substances such as rice flour, wheat flour, starch, calcium carbonate, salt, pharmaceutical powders and cement.
Along with the C130, PM650 and PM450 instruments, we brought the C600 to IBIE in October to replace the C300, the instrument of choice for years at the International Rice Research Institute. Rice whiteness is a key indicator of the level of milling as well as the quality of the rice. The C600 builds on the tradition of our C300, maintaining the quality and simplicity of that instrument. Additionally, the C600 is lighter (3kg), requires a smaller footprint (23.5cm less depth), and has an ecologically improved design for substantially reduced energy usage.
First offered to the public in April, the PQ520 provides rapid moisture measurement of individual kernels of rice, barley and wheat. This grain moisture meter is designed for use in laboratory, near-line process, and remote QA/QC applications. It's an invaluable test instrument where quick, accurate determination of moisture content is required.
One test only takes 6 seconds, and provides simultaneous analysis of constituents such as moisture, fat/oil, protein, sugar, fiber, ash, macro organics, film thickness, coat weight, and carbon. This instrument is also versatile and easy to use. Since the sample doesn't need to be altered to run the test, it can be re-tested or returned to the process once an initial test is complete. Each test provides "lab accurate" results.
Wishing you a very Happy New Year and successful testing in 2014!
What's on your 'wish list' for the ideal test equipment in 2014? Share your thoughts below.