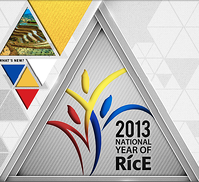 The Philippines have named 2013 the National Year of Rice in their government's bid to achieve rice self-sufficiency through the help of Filipino producers, policy-makers and consumers. As we mentioned in our Thanksgiving Blog, we've seen our customers champion for this cause, even in the face of a deadly typhoon. Embracing the Year of Rice, we at Kett love to see our test instruments make self-sufficiency possible. A simple moisture meter or rice whiteness analyzer allows farmers to optimize their crop yields, regulators to enforce necessary quality standards and manufacturers to ensure their raw ingredients are up to par.
So, as the 2013 National Year of Rice comes to a close - we're excited to introduce you to Kett's new Rice Huskers.
The TR250 Automatic Rice Husker replaces the original TR200 model, with some updated features to make removing the husk for a brown rice sample even simpler. We're also replacing the TR120, our Portable Rice Husker, with an updated TR130 model. Hulled rice is necessary for our electrical resistance grain moisture testers, such as the PM650 Advanced Portable Seed Moisture and Grain Moisture Meter and PQ520 Single Kernel Grain Moisture Meter, so we've worked hard to ensure these latest rice huskers work seamlessly with all of our Kett rice testers.
Husk (or hull) removal is simple enough for any operator to learn quickly and execute flawlessly. A sample of paddy rice (approx. 20 g) is all you need to start, which you then just pour into the TR250 hopper, close the cover and push START. It's that easy. While husking, the brown rice automatically moves to a separate case for the next phase of grain moisture testing. The entire test takes only 60 seconds to complete and is completely enclosed within the machine, so the operation is not only clean, but also highly efficient and accurate.
Whether moisture testing your rice in the lab, grain elevator or factory line, at only 1.8 kg and with a footprint smaller than a coffee maker, our TR250 rice husker is designed to last through thousands of moisture measurements. We've responded to our customers working with the previous TR200 models by updating the TR250 Rice Huskers with a 12-18% moisture range and an automatic cutoff safety system when overloaded.
If you're looking for a mobile means of husking your rice, our TR130 Portable Rice Husker is great for taking to the field. This incredibly simple test instrument effectively husks rice by simply hand rotating a handle attached to the side. In just 20 seconds, your sample of paddy rice (8 g) is hulled and automatically separated. As with the TR250, the rice is moved to a separate case for moisture testing and the separated hulls can be easily discarded. At just 0.2 kg the TR130 is light and requires no batteries or outside power source, ideal for any conditions.
The TR250 and TR130 are great small purchases to improve the accuracy of your grain moisture tests. Both instruments come with our One Year Total Care Warranty and an option to include additional maintenance agreements. Not only will your entire test measurement efficiency improve, but cleanup is minimal with a closed operation and the improved rice consistency means more stable test results overall.
Download the brochures here:
If you'd like a price - complete our inquiry form or call directly on : 800 438 5388
Happy hulling, happy holidays and happy Year of Rice!