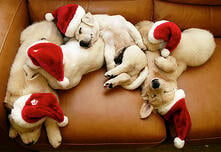 The holidays are a great time to take a rest, unwind and recharge after working hard all year!
It's also a time when you may be facing slower production, giving you a break from the grind of meeting daily work quotas. Your equipment may also need a little R&R after all the testing and measuring it's done all year. Which is why now is the perfect time to take stock and conduct a preventive maintenance assessment for all your test equipment.
Why not maximize your downtime, and do a little preventive maintenance in a few other areas as well? To help you get the most out of this holiday season, we've compiled a list of 5 things you can do to ensure optimum productivity for the new year.
1. Assess your Moisture Meters
The rush up to the holidays for many in the food industry is intense. However, once the rush is over, the slow period is a fantastic time to do some preventive maintenance on the machines that have been working hard right beside you all year. Send in your process analyzers (KJT30, KJT330, KJT500, KJT700 and 270Fs), desktop, handheld Kett moisture meters, or any Kett test instrument, for a preventive maintenance assessment to keep your your instrument running smoothly for another season.
2. Do an Efficiency Audit

Your slow period may be the perfect time to do an audit of how your employees are spending their time, and where your valuable resources are going. Utilizing standard test equipment can take up hours of employees' time, resulting in higher wages and depleting financial reserves. With no prep time required, and providing instant readouts, updating to a Kett moisture meter or composition analyzer is great way to prevent profit losses.
3. Understand ROI
Take some time to do your homework and find out how expensive it is for you to be running the same test equipment you've been operating. Is it breaking down? Not giving you the information you need? Are you losing profits due to products being too damp or dry? We can help you answer these questions. Purchasing a single updated moisture meter can prevent thousands (sometimes hundreds of thousands) lost in profits.
4. Improve Production Quality
When you have the time, make sure to use it on what counts most: quality. The holidays are a great time to train employees on new test equipment you've purchased, or to calibrate your new instruments. Make sure your employees know what constitutes quality, and are motivated to be your eyes and ears on the line. Having the right test instrumentation and correctly trained staff ensures your product consistently meets quality standards, preventing lost goods at any point in the production line.
5. Value Your Team
It's easy to get caught up in the bottom line, but make the time to show your staff and customers you care. What can you do to improve not only their work, but also their daily work experience? It may be something as small making a point to smile more often, or give a compliment. It's often just that easy to improve the working environment.
Do you have other tips for making the most out of the holiday season? If so, please share them in our comment section below.
Resources You May Find Helpful
Learn How To Buy or Lease Test Equipment In 2013 and Not Pay Anything for One Year
Plastic Strapping Manufacturer Saves With A Kett Moisture Analyzer [CASE STUDY]
Learn How The Right Moisture Meter Improves Food Manufacturer's Operations [CASE STUDY]