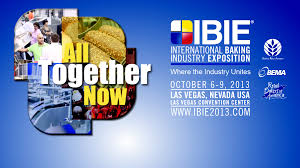 The International Baking Industry Expo, known simply as the Baking Expo markets itself as "North America's largest, most comprehensive trade event of the year." With 20,000 grain and flour professionals, baked goods manufacturers, packaging experts, and cupcake shop owners in attendance, we decided to jump into the mix (so to speak) this year October 6th- 9th in Las Vegas, Nevada.
As you all may have guessed from the previous expo's we've attended this year (International Food Technologist's Convention), we always look forward to the "yum" factor. IFI Gourmet will be offering "decadent chocolate cake with luscious Luker chocolate," according to a recent tweet, and the Bakery Network mentioned some celebrity demos from stars like TLC's Cake Boss, Buddy Valastro, Food Network's champion pastry chef and other masters from the French Pastry School. Of course, it's going to be a delicious event, but while these bakers are looking to pass possibly the most important of any food analysis, the taste test, we'll be demonstrating measurement technology to ensure these products get a chance to pass more consumer tests.
While attendees are set to be impressed with the gelato, pizza spinning, candy-making and other food demonstrations that the Baking Expo has packed into this year's event, we'll be wowing them with the magic of instant, lab quality test results that help put all their foods on the market.
So make sure you stop by our booth, 5508, for a 'hands on' experience. Here's some of the test instruments we'll be offering:
Handheld KJT130 moisture meter

This moisture analyzer may give the ice cream and pizza makers a run for their money in the 'cool' department, plus it's certainly easier to learn than how to toss dough!
Composition analyzer

Popular with food quality control specialists and R&D professionals, our NIR technology measures moisture, protein and lipids in a single run.

C130 Powder Whiteness Tester

Our latest version of the C100, the International Starch Institute's standard model.

C600 Grain Whiteness meter

Our most recent version of the C300, a longtime staple of the International Rice Research Institute
In addition to showcasing some of our most popular products we're hoping to explore a new market. We love to attend expos to better understand where our customers are headed and get a better handle on what their needs are as we continue to innovate. With this new event, we're hoping to combine our extensive experience selling to both baking companies and their grain suppliers, leaving with a better grasp of how we can best partner and assist with improving or enhancing their measurement and control capabilities.
We'll be bringing some of our most experienced engineers to answer questions on how to optimize the mixing process, baking line, product quality and product consistency - if we can pull them away from the cake and brownie samples that is!
It's tough to say if we've ever been to a convention with so much temptation at hand, but perhaps that's why they decided to situate it right in the middle of 'Sin City.'
Attendees & Exhibitors We're Looking Forward to Doing Business With:
Wholesale bakeries, suppliers and distributors
Supermarket chains, central bakeries and commissaries
Supermarket in-store bakeries
Multi-store and single unit retail bakeries
Intermediate wholesale bakeries
Donut, pie and cookie retailers
Cake and cupcake shops
Foodservice operators
Tortilla producers
Snack food producers
Biscuit & cracker producers
Manufacturers & suppliers of

Ingredients, flavorings, spices & fillings
Ingredient handling systems
Packaging and materials systems
Baked goods packaging
If you see your business on this list, or are simply curious as to how 'cool' a moisture meter could possibly be, please make an appointment to stop by booth 5508.
Can't make it to the expo? Talk to us about a free product demonstration, contact us today.