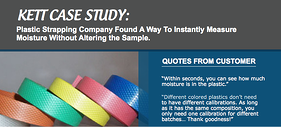 Earlier this month we presented you with a case study on how the right moisture meter helped solve a food manufacturer's dilemma. Today we're discussing how another Kett customer found the solution to their moisture measurement problems, though today we'll be introducing you to a manufacturer in a different industry entirely: plastics.
Q: What are your production line needs? Where is waste generated?
The first step in a Kett assessment is to take a comprehensive inventory of our potential clients. We take the time to understand their company, industry, product, and most importantly, their needs. In this case, we were working with a company that had manufactured plastic films that had the ability to hold and secure heavy items without breaking (plastic strapping) since 1975. Unlike the food and agriculture industries, moisture measurements of plastic are notoriously difficult to accurately obtain, as most moisture meters will ruin plastic and slow the production line. However, as we discuss in greater detail in our eBook, there are few variables more critical to meeting desired product quality and performance standards than moisture.
As a result of failing to measure moisture accurately, our customer was facing a great deal of waste in their production line due to overly dessicated or moist plastic strapping, leading to failure in meeting customer and internal performance specifications.
Q: Where do you need measurement instruments in your manufacturing process?
Once we understand a customer's basic product and needs, we then assess where moisture measurement will be needed in the line as a means to identify which instrument may best suit their needs. Our client identified two points: (1) before the plastic pellets enter the pre-dryer and (2) after pre-drying.
Testing the raw ingredients, pellets in this case, ensures that the oven and belt speeds are adjusted to the correct temperature. High moisture means hotter temperatures, and often a lower belt speed, while low moisture can mean the opposite, lower temperatures, higher belt speeds, and sometimes even adding additional moisture to the pellets. Testing post-drying ensures the product has been properly dried and heated to meet final specifications.
Q: What are you looking for in your moisture analyzer?
Our customer knew they needed an instrument that could "measure moisture quickly, efficiently and without altering the product." Other options, such as a moisture balance or Karl Fischer test, simply weren't offering them the same capabilities as a Kett NIR moisture analyzer, a choice that also measures various forms of plastics, including pellets, flakes, regrinds, and even heterogenous mixes.
Q: What are you looking for in your instrument manufacturer and/or supplier?
This customer ultimately chose Kett for its value. The price for the quality (measurements down to 10 ppm) we offer is unparallelled. However, without having experienced the power of an NIR analyzer, they were looking for a company that would allow them the opportunity to test the instrument before buying. We matched them with our rent-to-own program, which applies the rental costs to the purchase of a new instrument. Furthermore, they liked the idea of our 'one-time' calibration option with the rent-to-own program.
Q: What kind of 'follow-up' are you seeking from your instrument provider?
We provide extensive follow-ups with any customer who purchases a Kett product, and this was no exception. Upon purchase, one of our application engineers worked with the quality manager to calibrate the moisture meter and train her on the included software. She immediately appreciated the ease-of-use of our instrument, and noted that the moisture meter was providing her line with accurate readings immediately. She was then able to identify where extra moisture was needed (or not) and to subsequently save the company thousands with a relatively small investment.
Related Articles
Learn How The Right Moisture Meter Improves Food Manufacturer's Operations [CASE STUDY]
5 Reasons Why the KJT270 Is A Perfect Solution For Instant Composition Analysis
Learn How A Small Investment In A Moisture Meter Can Mean Big Profits Starting Day One