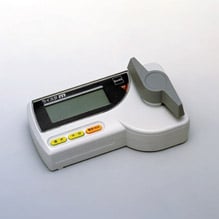 The amount of moisture in a product can affect various quality components, as well as transactions based on weight. When dealing in bulk shipments, even the smallest errors can add up to large profit losses over time.
At Kett, we understand these needs, having started our company with a single rice moisture analyzer over 65 years ago in the fields of Japan. Our line of rice and agricultural measurement instruments has branched out since then to guide rice from paddy to the plate. Our product line, ranging from single kernel grain moisture analyzers to product quality analyzers, is designed to allow you to categorize distribution of moisture within your process, regardless of whether that's in the field, at the receiving department or somewhere along the manufacturing line.
The Riceter remains the largest selling portable moisture meter in the world, and sets the standard in excellence in the industry. Originally designed and developed in the 1950's to bring lab quality results to rice farmers in the field, the latest version has been fashioned to test rice using both the Japanese Industrial Standards (JIS) and USDA measurement criteria. We also offer versions which incorporate calibrations for testing other small seed crops, like oats, wheat and barley. To help you determine if the Riceter is right for you, we've answered four of the common questions we get from farmers before they purchase the Riceter.
Questions we often get from farmers:
1. How 'compact' and 'portable' is the Riceter?
The Riceter, a battery-powered (4 - AA) moisture tester provides accurate measurements right in the rice patty, or anywhere else grain moisture needs to be measured quickly, simply and reliably. Our ⅓ lb instrument even includes a leather carrying case that can be attached to your belt, ensuring the most convenient testing is always at hand.
2. How easy is it to operate?
One of the reasons our moisture meters are so popular is their simplicity, and the Riceter is no different. Just place several grains (up to 1 teaspoon) of rice, wheat, barley or oats in the sample holder. Insert the holder, twist the integrated grinder and the moisture percentage is instantly displayed on a bright red LED. Testing, which uses a capacitance circuit, allows for rapid analysis. As an added feature, up to nine consecutive samples can be measured, displayed and averaged.
3. How accurate and reliable is it?
Additionally, the Riceter offers dual temperature compensation for both the grain and the instrument, as well as a self-check system to determine the instrument's calibration and statistical averaging, yielding the greatest precision available on the market today for getting results in the field. With a measurement range from 6-30%, and accuracy at +/-0.1%, the Riceter is ideal for taking the lab right to the harvest.
4. Does it come with a warranty?
As with all of our moisture analyzers, the Riceter is extraordinarily durable. However, if something unexpected should happen, it's covered by a three-year manufacturer's warranty on parts and labor. As our moisture meters are designed to last, (some are still being serviced forty years in!) we also offer post-warranty maintenance agreements.
Do you have another question about the Riceter? Or would you like to tell others about your experience using this great instrument? If so please share in the comments section below. Or contact us directly on 1 800 438 5388 (1 800 GET KETT), or email us here.
Additional Resources
[FREE EBOOK] A Guide To Buying An Accurate and Reliable Moisture Meter
Download any of our free product brochures here
Learn How A Small Investment In A Moisture Meter Can Mean Big Profits From Day One
NIR Moisture Meters: Desktop v's Handheld, Which One Is Right For You?