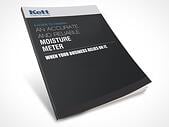 We have just published an ebook called "A Guide To Finding An Accurate and Reliable Moisture Meter" Below is an excerpt from the book which covers the questions you need to ask your team and the supplier to make an informed decision.
To download the entire ebook click here.
Before contacting an instrument manufacturer or vendor, it's important to identify the current needs of your company. This initial step is crucial to ensuring you purchase the right instrument.
Here's a list of questions you need to ask your team, company and supplier to ensure you choose the right moisture meter for your needs.
1. Agree on what needs to be tested
What is the form of the product you will be testing? e.g. Powder, liquid, gel, tablet, grain, etc.
What is the moisture range that needs to be measured?
Are there other products lines that may benefit from an updated moisture meter?
Meeting the moisture measurement needs of several components in your product line with one instrument can prove more economical, aiding you in making the case to purchase an instrument or an upgrade.
2. Know where testing will take place
Do your raw ingredients need to be measured upon receipt?
Do you need to conduct measurements in a pristine lab environment?
Will measurements be taken at various points along a processing line?
Would a portable or stationary instrument best suit these needs?
3. Get clear on what aspects of production you need to fix or improve
Has your line production increased, necessitating more frequent tests than the current meter can handle?
Does obtaining a read-out from the current meter take too long when you need immediate results?
Is your current meter locked in the lab, when you need a portable solution?
Is the existing meter unreliable, inaccurate or just out-of-date?
4. Understand who will need to operate the instrument
What is the skill set of each staff member who will need to operate the instrument?
What is their level of technical expertise?
What level of care do they exhibit when handling other equipment?
5. Ascertain your budget
Have you developed a budget for the acquisition of new test equipment?
What about a moisture meter specifically?
If so, how was this budget determined?
Is it based on an informed cost/benefit analysis or something else?
What further information do you need from your financial department and staff to determine a budget reflective of your company's needs and goals?
What level of assurance do you have that the purchase of a moisture meter will be approved?
6. Identify how the moisture measure will meet your internal requirements
Will it measure my product?
Will it cover the moisture range we need to cover?
How will it compare with my current system's measurements?
Does it offer the data output I need?
Start by conducting a thorough inventory of your company's internal limits and needs regarding the purchase of a moisture meter. Once you have answered these of questions, it's time to start speaking with a supplier. We'll cover that in next weeks article - subscribe to this blog ('subscribe by email' top right) to receive next weeks article.
To get more information about how to find the right moisture meter -
download the ebook here.
If you're ready to start speaking with a supplier - contact Kett today!
sales@kett.com
1-800-438-5388 or 1 800 GET KETT
Learn more about Kett here
View our range of moisture meters, and other instruments
Download our free product brochures