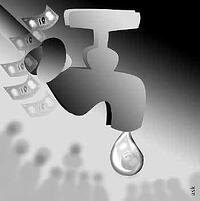 As you seek to optimize production, there are obvious operational costs where efficiency must be assessed. However, evaluating rising labor, fuel, freight and materials costs is likely to reveal resources that have already been stretched to the max through unrelenting improvements to efficiency. Additionally, the value of purchasing a new instrument, particularly when the models in use are operating properly, may be overlooked by you and your team.
However, you may be shocked that one of the best investments a processing company can make is often one of the areas most often overlooked: moisture measurement.

While hundreds of thousands of dollars may be spent in these other obvious areas of operations, spending just a few thousand dollars in the area of moisture measurement is more likely to generate a much greater return on investment.

Many mills, factories and farms have no ability whatsoever to monitor the moisture variation of their goods. However, adjusting just a few percent in moisture control can adjust a profit, in either direction, enormously. The key to these financial gains is to maintain the optimum moisture content for each step of the operation. Installing an accurate, durable, and reliable moisture meter on a production line can yield immediate savings, as moisture content relates directly to how product quality, and thus value, is assessed.

At Kett, we can precisely demonstrate how our moisture analyzers may affect the total value of your operations. We're happy to provide you with an application engineer to help complete a project assessment worksheet which clearly demonstrates the complete cost of your moisture meter purchase, or upgrade, and the financial benefits (direct and indirect) that your business immediately incurs as a result. Even with the tight financial climate in recent years, this information has been shown to help previous Kett customers as they advocate an upgrade project.

While value is most easily assessed in dollars, we pride ourselves on providing moisture meters that are durable, reliable, accurate and easy to use. Additionally, we aim to offer our 67 years of knowledge, working with a line of over 200 products, to each customer. Your interest in our products ensures you get the most out of every interaction with a member of the Kett team, including unlimited free phone and e-mail support with each product purchased. Finally, every Kett customer receives our Total Care Solution, a unique process that evaluates your company's needs to determine a customized product solution, then creates calibration curves, provides on-site, no-cost operator training, performance guarantees and even repairs within 24 hours.

The benefit and financial analyses that come with the Total Care Solution have been accurate time and again, as evidenced by testimonials by some of our former customers.
A few of our favorite client testimonials:
Reliability
"I was in the paper industry for years and never had a moisture meter online we could depend on. I was very skeptical when xxx on my staff told me he wanted to install your KJT30 [moisture meter]. However, it has worked for years now with no problems whatsoever. Feel free to use me as a reference."
-Director of Engineering and Corporate Projects


Knowledge and Total Care Solution
"XXX" at Kett knows more about moisture measurement and moisture control than anyone on the East Coast. I've talked to them all and he's the only one that says what they (Kett) can do and then does it."
-Senior Process Engineer

Accuracy and Ease of Use
"We've felt that it's useful, easy to use and will ultimately be very helpful."
-Plant Manager


Return on Investment
"Now that we know what was going on, combined with the dryer improvement project, we are able to produce the same quantity of in-spec product on one dryer versus previously having to use three dryers."
-Senior Consultant, Process Controls

Could it be that you are losing profits due to inaccurate or a lack of moisture testing in your process? Are you ready to start your project assessment today? Call 1-800-438-5388 or fill out a customer evaluation form to get started!


Other Articles You May Find Helpful
Learn How To Improve Product Quality With Single Grain Moisture Testing
Learn The 10 Benefits of Taking The Lab To The Sample With The Kett KJT130 Moisture Meter
NIR Moisture Meters Desktop vs Handheld: Which One Is Right For You?