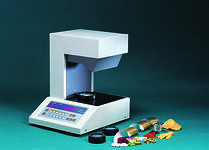 This month, we've been sharing the benefits of two of our most popular instruments in the NIR spectrometer family, the KJT130 and KJT230 moisture meters. While moisture testing is one of the top ways to ensure product quality across the board, this week we'll be discussing the cousin of the moisture analyzers, the KJT270 NIR Composition Analyzer. The KJT270 is available as a larger fiber optic KJT270F and smaller desktop KJT270. Listed below are five key reasons customers love these instruments.
1. Instant Results
One test, which only takes 6 seconds, provides simultaneous analysis of constituents such as moisture, fat/oil, protein, sugar, fiber, ash, macro organics, film thickness, coat weight, and carbon.
2 Versatile
Kett Composition Meters can analyze virtually any liquid or solid, including granular products, pastes and gels. They are ideal for measuring a great range of materials, including chemicals, pharmaceuticals, foods, pulp/paper products, ceramics, powders, wood, polymers and most products containing organic substances, such as coal or fuel.
With a footprint the size of a home coffeemaker, our desktop instruments truly are ergonomically designed to take up just enough space to be used on a desk. As an option, they can be integrated either into the lab or anywhere along the production line, providing results when and where you need them in your facility.
2. Simple to use
The Kett KJT270 instruments include an internal memory which stores numerous calibrations, and we provide you with the tools to easily create your own set of calibrations for laboratory and process work.
Once the instrument is calibrated, the sample cup is placed on the sensor or under the probe (KJT270F). Generally, no sample preparation is needed. Just choose the measurement settings, and the KJT automatically beeps to start and then beeps again once the process is complete. It will even spin the sample to average the measurement in case the sample isn't homogenous. Results are available in just 6 seconds, and we can teach any operator, from CEO to first-day employee, how to use the KJT270 in about five minutes.
3. Non-Destructive, Quick and Accurate Testing
Since the sample doesn't need to be altered to run the test, it can be re-tested or returned to the process once an initial test is complete. Each test provides lab accurate results.
Just one run of the sample will provide a full compositional readout, including moisture, fat/oil, protein, ash and carbon levels.
4. Industrial Strength Dependability
Our machines are not of the delicate variety. We design them to be heavily used, on-site, with the capacity to obtain accurate readings even after years of use. Unlike most instruments you'll find in a laboratory, our test equipment employs integrated temperature compensation and a sealed keypad. Not to mention that cooling fans and simple, robust construction ensures years of service. As with all of our products,the KJT270 comes with our full One-Year manufacturer's warranty on parts and labor. In addition, we guarantee specification compliance during the warranty.
5. Guaranteed Results
We've even taken into account the need to maintain lifetime calibrations. This is achieved with an external "zero plate" that automatically returns the instrument to a baseline measurement as needed. Utilizing a reliable instrument ensures that your team stays focused on their work, instead of wasting time calibrating and verifying your gauge.
With Kett's KJT270 instruments you'll be sure to improve product quality, reduce product costs and achieve customer or government specifications.
If you're a customer and have other reasons why you love Kett products please let us know by commenting below or posting on the Kett Facebook page.
Next Steps:
Download Brochure - KJT2070 (spanish)
Download Brochure - KJT270F (fiber optic)
Please let us know if you have any questions. We have a team of specialists on-call to assist you in choosing exactly the right model for your operations and development needs.