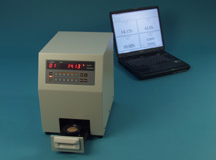 Have you ever been frustrated at the end of the food production process to discover that the final product does not meet specifications? Or what about the time involved in the analysis to get consistent and accurate measurements to ensure a quality product?
The solution to your problem could be a NIR analyzer, and fortunately, there are a number of NIR analyzers in the market that can meet your requirements to efficiently produce quality products - every time, and on time. These analyzers have made test measurements easier and more accurate. So let's explore the benefits of NIR analyzers.
Depending on the brand and model, a NIR analyzer can help with:
simultaneously analyzing fat, sugar, protein, and moisture
the need to analyze organic composition
liquids, slurries, solids, and powders
providing accurate and reliable measurement results you can rely on
easy to use test instruments
getting measurement results in just seconds
testing during production to save downtime and waste

In this competitive global landscape, the food production process needs to be efficient, with little to no downtime, and be a consistent quality product that you can rely on. Whether you've tried a NIR analyzer before, or you're considering it for the first time - we'd be happy to discuss your need, budget, and best solution for you.