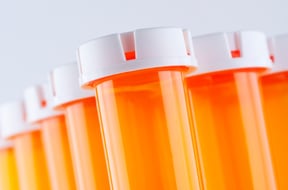 Though virtually unchanged since 1970, the familiar amber vials used by pharmacists for decades have recently fallen under scrutiny. In 2013, an industry-driven initiative to expand US Pharmacopeial Convention (USP) packaging classification systems sparked dialogue between regulators, manufacturers, and contract packagers and repackagers about improving packaging integrity regulations for determining the level of barrier protection provided by packaging systems. These new changes were implemented to maximize the shelf life of liquid and solid oral dosage forms by eliminating moisture vapor permeation in the packaging. At the time, USP specified the categories of "well-closed" and "tight" in its classification, with the latter used much more frequently. However, certain medications require packaging beyond "tight"—requiring no moisture permeation. Now, two years later, drug makers are using modern testing instruments and special testing techniques to improve product stability and shelf life under the new standards.
The Role of Pseudo-empirical Modeling in Pharmaceutical Packaging Testing
Packaging plays a key role in maintaining the quality of pharmaceuticals throughout their shelf lives. As oxygen and moisture permeate the packaging over time, the quality of solid oral dosage medications degrades. That being said, determining the ideal packaging requirements can be challenging, and if you don't take a strategic approach to drug packaging and testing, there can be serious delays in bringing a product to market. Fortunately, with pseudo-empirical modeling, drug makers can quickly determine how a particular drug will fare in a given package.
Pseudo-empirical modeling simulations can be performed for many types of pharmaceutical packaging, all in accordance with the guidelines for stability testing set by the International Conference on Harmonization (ICH). The calculations analyze the humidity levels both inside and outside the packaging, drug and desiccant affinities for moisture at different humidity and temperature levels, and the rate of transfer of moisture and vapor through the package wall. Modeling simulates how all three of these variables will affect the drug's stability. The whole package, including the drug itself, the container, and desiccant, functions as a system and will reach equilibrium relative humidity over time. By using the information from their testing, drug makers are able to customize moisture-management strategies to meet their specific product's equilibrium. These tests provide crucial evidence to regulators that pharmaceutical products will remain safe and effective throughout the supply chain – which also ensures brand integrity.
Near Infrared (NIR) Moisture Meters for Pharmaceutical Applications
When it comes to measuring the moisture and humidity levels in your packaging, testing instruments, such as our KJT270F non-destructive analyzer, will assist in the evaluation of emerging packaging applications over pharmaceutical shelf life to ensure product stability. NIR moisture meters provide instantaneous measurement and user-friendly operation to provide drug makers with reliable analyses throughout the manufacturing process. Simulation modeling is confirmed by actually measuring the drug inside the packaging, and the KJT270F expedites the validation of the model by providing real-time results that confirm packaging integrity. Other pharmaceutical applications include:
Identification of raw materials and product quality

Moisture and solvent content measurement in drying or solvent removal processes

Residual drug carryover in manufacturing facilities
Mixing quality evaluation
Imaging of tablets and packaging systems
Real-time monitoring of fermentation processes
And more...
To learn more about how Kett moisture and composition meters can help you track and analyze moisture measurements (and these other key components) in your own packaging applications, talk to one of our qualified experts today by filling out our online contact form, or by clicking the button below: