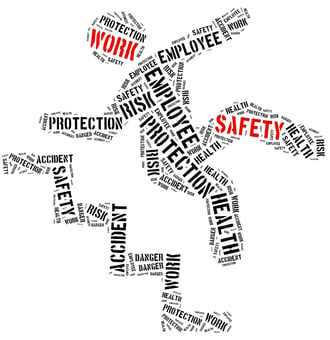 When it comes to keeping your employees safe on the job, research suggests you should start with your floors and work your way up. According to Staples' third-annual workplace safety survey, one in five workers report slipping, tripping, and falling at work as their biggest concern, with accidents involving slips, trips, and falls ranking as the leading cause of worker's compensation claims.
While a fraction of these slips and trips are a result of clumsiness, 55% of all slips, trips, and falls are caused by hazardous flooring. This means the majority of these accidents are easily preventable with the proper preventive planning and procedures in place. And with the average slip and fall claim costing companies approximately $20,000 per accident, today's businesses can't afford NOT to take it seriously. In addition to slip-resistant flooring, businesses should invest in portable, accurate, and easy-to-use, handheld friction measurement tools to help make sure their flooring stays up to standards.
In a laboratory environment, flooring is subjected to rigorous testing to establish its coefficient of friction (COF) value. OSHA standards mandate that flooring in places of employment for walking/working surfaces have a minimum COF value of 0.5. Though the flooring in your facility undoubtedly met this OSHA standard at the time it was purchased and installed, what happens once the flooring is subjected to daily wear and tear?
Daily use, wear, and maintenance have a significant effect on the slip resistance of flooring over time. One way to continually evaluate your flooring's alignment with OSHA standards – and avoid costly accidents – is to implement the use of a handheld, portable friction analysis tool on-site. This helpful tool will give you an accurate COF value every time and indicate when you need to improve slip resistance either by resurfacing or replacing the flooring.
According to the Consumer Product Safety Commission (CPSC), floors and flooring materials contribute directly to more than 2 million fall injuries each year.
To help you mitigate your risk for slip, trip, and fall accidents in your workplace, here are three best practices your company should follow:
When selecting flooring for a space, consider how the day-to-day activities may affect slip resistance. For example, tile flooring becomes far more slippery when wet and shouldn't be used in an area where spills may frequently occur, or where moisture is common – such as entryways.
Don't ignore your flooring's flaws. Over time, cracks and holes in your flooring materials can become safety hazards, putting your employees at risk. It's important that you implement maintenance and repair procedures promptly before they become a liability. Likewise, it's important that you regularly check for new damage to your flooring's surface, including areas where wear and tear have lowered the COF.
Use floor coatings as a safety factor, not just for aesthetics. A glossy finish on a floor may look nice, but tends to become slippery and unsafe compared to other options. Coatings can be strategically selected to provide both aesthetic and slip-resistance properties. Coating additives, such as aluminum oxide, increase the slip-resistance of a floor's finish, and UV-cured coatings provide additional slip resistance on polished concrete and similar surfaces.
Slips, trips, and falls are the most common accidents in the workplace. Following the best practices outlined in this post will help you maintain a safer work environment and avoid employee slip, trip, and fall accidents. Regular on-site friction testing is not only a key to ensuring worker safety (and avoiding the costs associated with injuries), but also to your OSHA compliance.
To find out how our portable handheld friction meter can help your company ensure the integrity of the surfaces throughout your facility, please download our friction analysis tipsheet.